So it had begun. It was that time of year, and the Anti-Santa was up and at it swinging. The polar bear that had seemed to be working so well had just been carved into mince-meat by some sort of were-deer thing with a scythe.
Santa sat grumbling in front of the TV. Once again, Hallmark was spewing out those stupid, "romantic" Christmas specials again. Santa could never figure out why anyone would watch this trash; each one was pretty much a rehash of the same syrupy story line.
"Bleah!" muttered Santa as essential "dramatic" smooch scene between the two "love"-interests played itself predictably out. "Enough to put a fellow off his chocolate!" Santa shivered a little. Was the room getting colder?
"Darn heating system!" he grunted. "I'd better get an elf to look at it."
"Oh, I don't know. I rather like things a little chill myself."
Santa nearly jumped out of his boots. Seated in the other armchair was a person he had seen before, and wasn't really sure he was happy to see again, considering past events. Beneath the jeweled belt and buckle was a swirling, sparkling mass of what looked like mist, intermixed with snowflakes. Above was a muscular torso with white and blue skin, bands encircling the bare arms. Where the face was, more swirling mist was present, this flowing back almost like long hair. The person sat quietly gazing at the television, his presence letting off mist and snowflakes, a constant wintery aura.
"So, you watch this . . . channel, do you?" he asked.
"You!" gasped Santa. "You're back!"
"Yes!" replied the Winter Jinn (for that was indeed who it was). "I have returned . . . Friend!" He cast a glance (assumedly, it was hard to tell with his face) as an alien hurried carrying a mug of hot chocolate, placing it respectfully at Santa's elbow. "Just as you like it, Sir!" he said, hurrying out. "You've had a bit of a boost to the labor force, I see," observed the Jinn.
"What?" said Santa, still a little befuddled. "Er, or yes, yes I did, last year." He took a quick pull at the mug, and choked. "Stupid Chocolians!" he growled. "Always too dark! They seem to think that just because they like it that way, everyone else does too! For a race that specializes on chocolate, you'd think they'd . . ." Remembering his guest, he quickly looked at him in what he hoped was a polite fashion. "Sorry," he said quickly. "What was it you wanted?"
Silently the Jinn held out his hand, and swirling mass of snow and mist appeared, shaping itself into a sphere. In the center, an image formed itself, an image of the battle taking place outside. Santa watched with dismay as the Weredeer stood howling triumphantly over its kill. 'It would seem you have the usual problems that you've been having for the past few years," said the Jinn
"Yes, I have," said Santa. He really needed to get round to adding all those Sporum members to the Naughty List.
The Jinn, nodded, smiling. "Of course, you'll be needing all the help you can get."
"Of course," said Santa cautiously. There was obviously a kicker coming.
The Jinn smiled more broadly. "I can provide it for you, but I want something in exchange this time. As I'm sure I don't need to remind you of what I went through the last two times." Opening his hand, he produced a flash drive, and dropped it into Santa's hand. "Give that to the elves, or whatever it is that works for you these days. I need it by Christmas. Do we have a deal?"
Santa hesitated a moment, and then sighed. "Alright, it's a deal then."
"Excellent!" said the Jinn. "Now, to the matter at hand." With a twirl of his hands he produced a small whistle made of ice and blew a sharp blast.
At the very moment that Weredeer was celebrating its victory, the ground suddenly began to shake. Cracks spread through the ice, deepening and widening, until the surface collapsed into a pit out of which came a violent burst of cold mist. This was swiftly followed by an immense, icy dragon, spewing a torrent of blizzard like mists from its maw.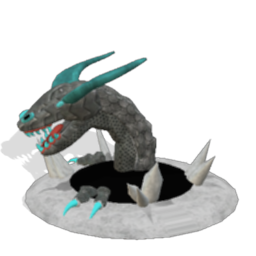 The poor little Weredeer had no time to react; in a trice, it disappeared down the immense ice drake's throat, never to be seen again
Santa chuckled as he and the Jinn watched this. "That worked out quite well," he said. He was beginning to feel better about his deal with the Winter Jinn. "Chocozar!" he called to the one Chocolian. "Bring me another mug of hot chocolate, and not so dark this time!" He turned to the Jinn. "Want anything?"
"Ice cold lemonade," replied the Jinn. "I prefer to keep things chilled."
"As you like," replied Santa, turning back to the television. "Bleah!" he muttered after a minute. "Who watches this stuff?"