TSB's 2018 Flagship Contest II!
Contest end: Jan 12 2018
Creation must be created after 11/18/2017
TAG: TSBFlagshipContest2018
Sporecast:
http://www.spore.com/sporepedia#qry=usr-TheShipBuilder%7C500185304139%3Assc-501054300365
To celebrate the fifth anniversary and spectacular ships entered into my first Flagship contest, as well as Bart88's magnificent victory, this winter season I will be hosting a second flagship contest!
Forum thread for that contest here:
http://forum.spore.com/jforum/posts/list/79431.page
Sporecast for that contest here:
http://www.spore.com/sporepedia#qry=usr-TheShipBuilder%7C500185304139%3Assc-500890536367
The official start date will be December 1st, with a likely end date of Jan 31st. This is a longer contest window on account of the Holiday season and the nature of what I'll be looking for in this contest. The rules will be similar to the first contest, and as such I will be using a significant portion of its opening post, because if it's ain't broke don't fix it, right?
Rules!
I'm looking for Flagships. Special ships unique to a person, place or event in your sporeverse. With the prevalence of Dispored and the Sporewiki thing, if it's one of the ships from that universe, that's okay, but it MUST be yours. I will do my research!
I do not expect these to be playable models. Freedom/AddDNA are perfectly acceptable and strongly encouraged. I do expect these to be built with Spore. I run a vanilla Spore and GA. If I can't access it with those files it will not be counted. Some of your guys and gals Modded work is pretty awesome, but that's not the nature I'm going after here.
If you're not familiar with how to do AddDNA and Freedom, I can help with that as can many other people, not a problem at all.
ALSO, I would LIKE to see multiple stages of this ship, showing you HAVE put many a thought into it. Another suggestion on how to do this might be to build a ship within the playable constraints of the game, then use the Freedom/AddDNA complexity to turn it into something special, not just a run of the line warship. You MAY also choose an older ship and modify/recreate it for this contest, but ALL authors in its lineage tree must be you. Any other authors will be a disqualification, even if it's just a base engine or wing design, such as the Solus Drive System I have shared in the past.
And Finally, I DO NOT, under ANY circumstance(READ: I Will NOT consider your entry for judging if I see this), want to see a long list of your ships specifications, weapons, engines, blah blah blah blah blah in the description. I want to see a story pertaining to the ship. This could be why it was built and if it accomplished this goal, a significant event in its history, or its demise, or anything OTHER THAN 'This ship has 10 point defense auto cannons, 2 blah blah blah.' This contest is all about pushing the creative edge of Spore using the UFO editor to build spaceships. I'm not knocking the mech and weapons and scenery artists in this editor, they build some absolutely amazing stuff. But I wanna see what you guys can do using the editor to build what it was designed to build, without ze mods
, and what characteristics you can endow it with a solid description.
Example:
First, multiple stages of a ship.
We'll use the 'Spectre' Light Assault Carrier: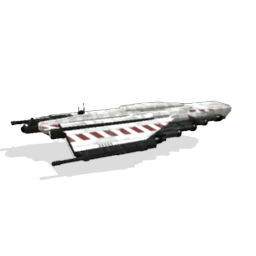 I built this ship April of '12. Inspiration for it came largely from the IAE's older works. I wanted to use some of their design stuff and see what could be done with it. Jat, Iraultza, and the rest of the IAE crew were great sources of inspiration for me as I learned how to build with Spore. Them and Omnilogical. In a way, it was a returning to roots sort of thing for me. At the time, I was also kinda lost in what direction I was going. Good little ship, not my best, but not bad at the time.
After about 8 months, I thought a re-visit wouldn't hurt it. As a result, the 'Phantasm' came into being: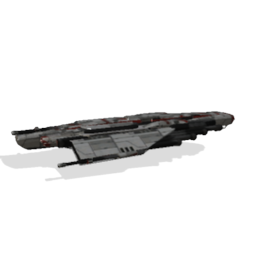 Personally, I really like the way this ship turned out, and so far the comments agree. But, this is still a 'standard ship.' No freedom, AddDNA, or otherwise. Just regular parts and time. This one throws back to the original in the description, but illustrates a bit of a new direction for the ship, to go with the new look. I COULD submit this ship if I wanted, but.... I don't know that this is still quite the essence of what I'm looking for. To me, this ship doesn't really fully express what this ship is capable of. This is a standard hull, nothing special. It did no great things, won no great victories and was commanded by no great heroes. What I need is a ship of legend in my sporeverse.
So.... Now we come to the Freedom variant, 'Haunting Shadow':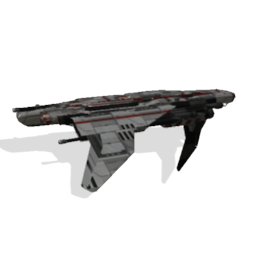 Freedomized 'Phantasm'. As much as Spore can do and still share. THIS is what really pushes this hull to its limit. OFC I Could add more, but then it wouldn't share, and creations need to be shareable. Ultimately, I'd like to see a ship like this from everyone.
This is what I mean by multiple stages of a ship. So, for this contest, you are certainly free to use an old hull as a starting point, but it must be significantly changed. If this is easier from a new hull, then please do.
As far as descriptions
, what I really want to see is something in the same ball park as the description of 'The Sorrowful Heart.'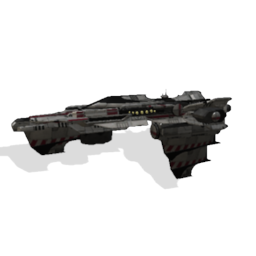 It doesn't have to be a tragic story, doesn't have to be a battle, it can be anything so long as it is a creative description, with time, thought and effort, and is NOT, ABSOLUTELY NOT, a ship specification list.
So.... Recap!
Flagships! Unique, powerful, at least midsized ships, but probably larger.
Recommended that you use freedom.
How to use Freedom, if you don't know:
Open Space Editor-> cntrl+shft+c -> Type Freedom-> Type AddDNA. To disable Freedom, type Freedom again.
Tip: When using Freedom, with editor limits disabled, you do not want to build into four of the dots on the complexity meter being filled. But, this is still a significant amount of parts. Once you hit four dots, sharabilility becomes questionable. Stay just under four, and you're good. You may be able to squeeze a couple parts on into the fourth dot, but you will likely have to finagle and experiment a few times as to what can be shared.
Tip: Sharing Freedom creations is sometimes challenging, give it some time and patience. The contest is so long to account for this.
Tip: Recommend you build the Hull without Freedom, and detail with freedom.
Tip: The ships you will be entering against, if last contest is an indicator, will be superb. Triple check every aspect of your entry. How do the parts flow together? How does the paint work to create this or that effect? Do I have areas where parts are clipping/flashing because they're on the same plane? I will look at all these things when it comes time to pick one ship out of all of these to be the victor.
Include a great description. Hopefully this fits on the creation, but I'll be willing to look at them separately if they can't. In this case, either submit it on this thread, OR Sporemail me. Share the creation, paste the pre-written descrip soon as it loads, and it will be part of the ship on everyone's DL's. I'm sure there are other ways to do it, but that's just the way I've used and it has worked. I will have to check to see what browser is the best and easiest to do this these days. First contest explorer was a bit easier than firefox. But we can cross this bridge when we get there.
In the event of the Sporum dying again, I will continue to monitor this through creations. ALL Creations MUST be tagged TSBFlagshipContest2018.
Contest DEADLINE is tentatively January 31th. This may push back or forward a week depending on how many ship are entered after the new year.
Winners:
This contest is slated to have 1 winner and 2 honorable mentions. Depending on the scale, this can be changed, and I reserve the right to award any unforeseen thing of note that may come along. I plan on being the judge, but again, contest size dependent, this is not set in stone. I do my best to remain impartial and just based on quality and how well it meets the desired goal, but I am human, and can make mistakes. My decision will be final, but I will be willing to discuss any discrepancies.
I WILL limit entries to
two
on this contest, because I REALLY want your effort focused on your entry.
You may message me on the Dispored discord server, via PM or post here, or on comments. I lurk on there, either TheShipBuilder or Kenrailae(Eve character). Like everyone I'll be busy during the Holidays, but I will check at least every few days, though likely daily, until the contest end, at which point I'll probably go back into my rest of the year hibernation lol
I will create a sporecast as we get going. Link will go here.
Any questions, drop here, on a creation, whatevs.
Best of luck Captains, the ball is in your court!
Edited a couple out of date bits I missed while salvaging parts of the prior contest thread.