MONSTER HUNTER
MONSTER CREATOR CONTEST!!!!

The Guild is always bolstering with quests to exotic places and dangerous game. Now, new game monsters have appeared....
Hey, been a while since I have had a contest, and you know what, I've been pondering this for a while, and with success of my last contest, I would love to host another one. In fact, you may have noticed the myriad of Monster Hunter based creations, and I now I would like to host a challenge to see the creativity of others based on this fun and entertaining series.
So, for those that don't know, Monster Hunter is a video games series found predominately on the Playstation side of consoles, but recently ported over to Nintendo through Monster Hunter Tri, Monster Hunter 3G, and supposedly Monster Hunter 4. Monster Hunter is founded on the basis that you and a group of either cpu companions or 3 other humans are tasked with hunting and taking down large, dangerous monsters from a variety of exotic locations. These biomes are just as varied as the monster that call them home.
These games are extremely intense, and often hesitating could very well mean life or death, and the inexperienced are quickly K.O.ed if they don't adapt. But the pay off for taking down a beast 3x your size because you were skilled enough though is the best feeling in the world.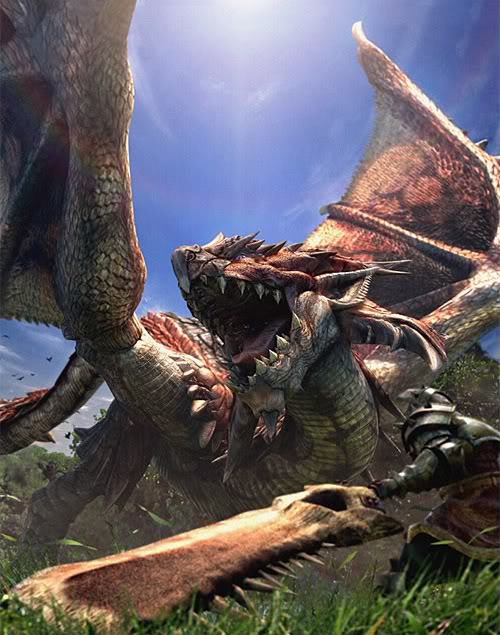 Now for this contest, I want you to make your own, original monster based on any species from Monster hunter, including Elderdragons, but I have to warn now UBER MONSTERS WILL NOT GUARANTEE A WIN!!!! Make them somewhat realistic, which is what appeals to me about monster hunter, cause the monsters are believeable. They all have their fair share of strange attributes, but these are biological and not magicall, flame sacs and special organs give the monsters their special abilities, not voodoo. In fact, there really is no magic in this game, just fantasy science.
Monsters follow to trends, either wyvernic or theropodic, most monsters actually look more like dinosaurs than wyverns, even if wyvern is in their name
Here are the Species and examples of each and a brief description
Also, a link to an encyclopedia for all the monsters:
Monster Hunter: Monster Encyclopedia

Herbivores:
Usually pretty standard, either mammalian or dinosauridae, mainly board, goat, sheep, large mammals, large Ornithischia (all the herbivore dinosaurs) and sauropods
http://monsterhunter.wikia.com/wiki/Monster_Encyclopedia:_Herbivores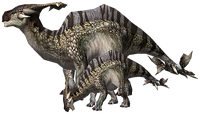 Neopterons:
This group of monsters mainly consists of minnion (or small) monster that are bug-like in nature. These include giant wasps, ants, and crickets in the game but assume any insect is free game for this Class of monsters.
http://monsterhunter.wikia.com/wiki/Monster_Encyclopedia:_Neopterons
Lynians:
A strange group of monsters, these include species are usually humanoid and intelligent. Some of them work with hunters, while others actively attack hunters on sight. These are usually animal like people or indigenous people.
http://monsterhunter.wikia.com/wiki/Monster_Encyclopedia:_Lynians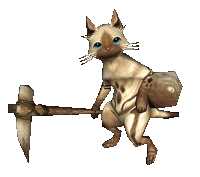 (
for lynian entries
: lynians are semi sentient and can wear clothes, so you can outfit your lynian as a monster. They can also be included in the
bonus challenge
but must be made into a
unique hunter form/armor
and have a description of how or why they work for the guild.
Outfitting your lynian does not automatically enter it into the bonus challenge
.)
Bird Wyverns:
There are two kinds, true Bird wyverns, that look similar to Pterasaurs or large birds, while a Theropodic subspecies usually take the form of raptors or ceolosaurs
http://monsterhunter.wikia.com/wiki/Monster_Encyclopedia:_Bird_Wyverns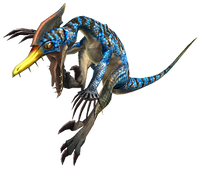 Flying Wyverns:
These are probably the widest variety of monsters, and actually split up into to Suborders: True Fly Wyverns, which are all bipedial, and Pseudowyverns which are quadrapedal and don't always have wings.
http://monsterhunter.wikia.com/wiki/Monster_Encyclopedia:_Flying_Wyverns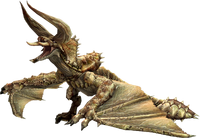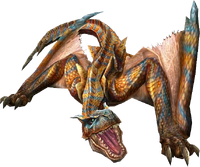 Piscine Wyverns:
Probably one of my favorite classes, Piscine Wyverns are amphibious wyverns that have lost the ability to fly and instead now can swim. Not to be mistaken with Leviathans, Piscine wyverns resemble their flying bretheren, but are more fish like.
http://monsterhunter.wikia.com/wiki/Monster_Encyclopedia:_Piscine_Wyverns

Brute Wyverns:
A more recent addition to the Monster Classes, Brute Wyverns are large, Theropod like monsters that live in a wide variety of environments as well as some of the most hardy. They usually come in two forms, giant theropod or brutish battering ram.
http://monsterhunter.wikia.com/wiki/Monster_Encyclopedia:_Brute_Wyverns
Fanged Wyverns:
An exclusive and new Class, right now only one species has been discovered: Jinouga. These species seem to resemble Pseudowyverns but with a more mammalian or wolf like appearance.
http://monsterhunter.wikia.com/wiki/Monster_Encyclopedia:_Fanged_Wyverns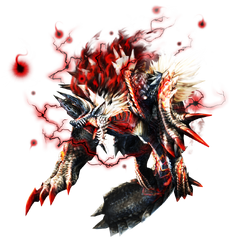 Carapaceans:
A strange Class of monsters, thes usually resemble giant crabs or scorpions. They often wear the skulls of giant monsters on their backs like hermit crabs.
http://monsterhunter.wikia.com/wiki/Monster_Encyclopedia:_Carapaceons
Pelagus:
These contain species of monsters that are not necessarily herbivores, but have a strict mammalian background and are extremely dangerous. Pelagus usually have giant forms of wolves, apes, bears, and other oddities.
http://monsterhunter.wikia.com/wiki/Monster_Encyclopedia:_Pelagus
Leviathans:
Another recently discovered group, these monsters usually are serpentine or fish-like and amphibious. They all live in aquatic but a few desert dwelling species that swim through sand and lava.
http://monsterhunter.wikia.com/wiki/Monster_Encyclopedia:_Leviathans
Elder Dragons:
The broadest class of monsters, Elder Dragons primarily refers to true dragon forms, quadrupedal monsters with true wings unlike Psuedowyverns, but the group is filled mainly with ultra-rare species of monster, many of which have little or no wyvern lineage, but are still considered Elder Dragons either by size or rarity.
http://monsterhunter.wikia.com/wiki/Monster_Encyclopedia:_Elder_Dragons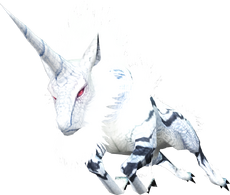 now that's quite a pallet, and if you have any questions about the monsters, feel free to ask them here or check out the wiki site I have link above.
Your job will be to make an original version of any of these classifications of monsters, so go wild, there's a lot of room to work with here. here's an example of some monsters and proper submission format:
[with * required fields]
Technical example
[Name*]
Quodablos
[Classification*]
Flying Wyvern
[Order: when appropriate]
Pseudowyvern
[large png]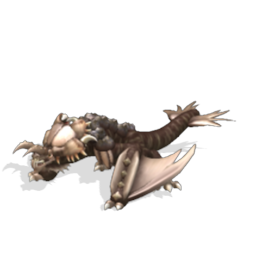 [small png*]&[link*]

link can be integrated or separate, doesn't matter
[description: optional on forum, required with the creation]
Dangerous and territorial, these frightening monsters....(just example of start of description)
Basic Example:
Skarthian
Flying Wyvern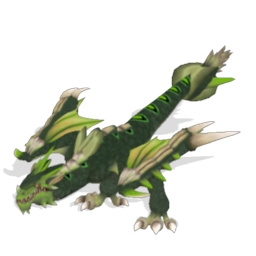 Skrathian are female Skra, they usually patrol from the ground.....
Go wild on this one guys, there are so many different things you can make, so entries are unlimited, and all classes will be judged together for top 3 seats, and best of each class will got to 3 competitors.

Now Rules:
-You may make as many entries as you want, but only one will be allowed to win top 3 seats.
-Each Classification will be judged separately for best class and together for Top Monsters.
-Must have a link and small png when posted on this thread
-Must have the name of its species and it's classification (look above for Monster Classes)
-Requires an original name, description, and contain the tag
link1299monsterhuntercontest
to qualify for judging
-Old creations allowed but have to fit the criteria above.
-All add-ons but Bots: Core, C&C, GA are allowed
-Outfitting is allowed but will only work for appropriate monsters (i.e. Lynians can have outfitted monsters, outfitted Fly Wyverns will have have points taken off for realism)
-No inappropriate entries, I will know and you will be banned from the contest
-ADDDNA allowed, freedom is not
-templates are allowed but must give credit to template maker. HAS TO BE A TEMPLATE, can not edit others creations.
-no stealing, must be your creation
-no whining, trolling, or flaming
-have fun

Judging Criteria:
-Creativity
-Accuracy (does it fit it's Classification)
-Detail
-Description
-Animation (a little bit)

Judges
I will be the first judge but at least two more judges are required so post here or pm if you're interested
Prizes!!!
Now for the best part, the prizes.
-1st: 15 comments, a trophy, a sub, and a spore cookie
-2nd: 10 comments, a trophy, a sub, and a spore cookie
-3rd: 5 comments, a trophy, and a spore cookie
-all entries, a trophy, and a spore cookie
-All classes will have their own special trophy that will go to the top 3 best Monsters of their class, not including the winners in 1st, 2nd, and 3rd of the contest
-other special trophies

Enddate
April 5th for entries
Bonus Challenge:
We all know that if there are monsters, then we need someone to hunt them. If you're looking for some extra challenge, outfit a creature to be your monster hunter, give them realistic armor, and bonus points to those that added real weapon classes. Outfitted lynians also count for this challenge, since you have been able to take both Felyne fighters and Shakalaka kids on quests in the past.
Here's a link to the weapons of monster hunter:
http://monsterhunter.wikia.com/wiki/MHP3rd:_Weapons
Also, here's a few examples of real monster hunters and lynian hunters as well as a few outfits I've made: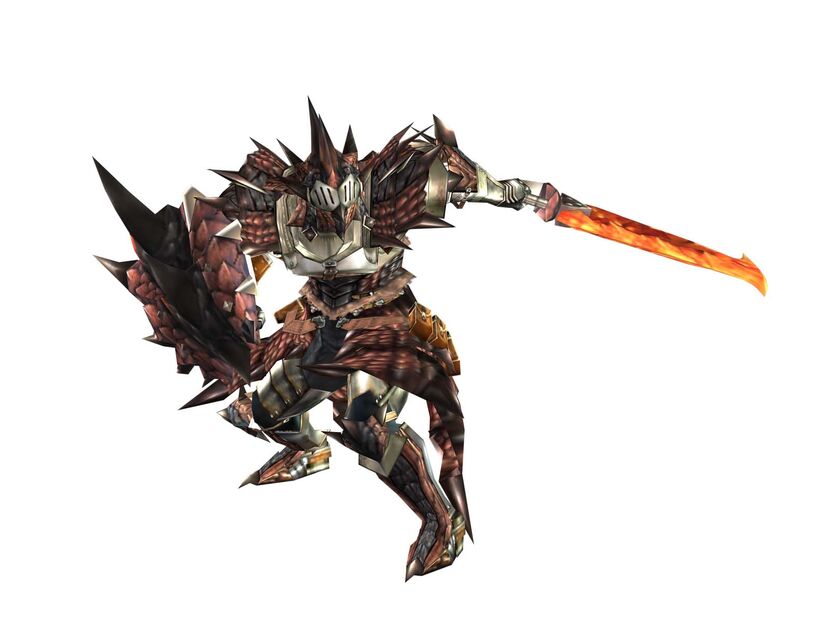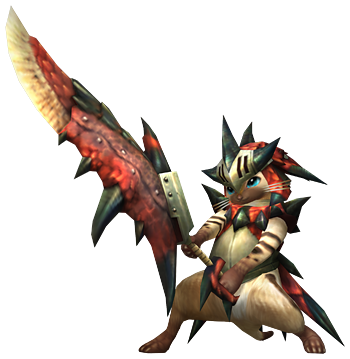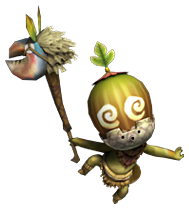 Click for Sporpedia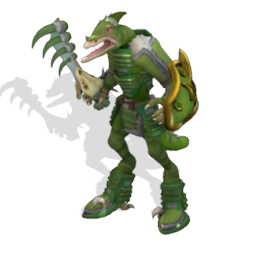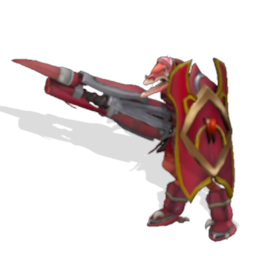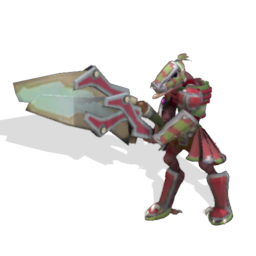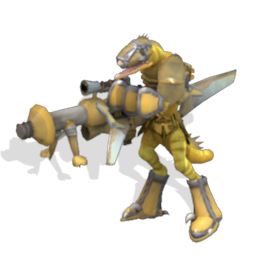 Rules are still the same as above, be appropriate and have fun. Must have a name, weapon class, and description of their armor, must be tagged
link1299monsterhunterbonus
to qualify. For more info, check the monster hunter wiki site I've linked above for info on weapons and armor. This is not required and winners will receive a bonus trophy for entering and top three will earn special Bonus Hunter Trophies.

Special Request:
Again, I'd love all you talented graphic artist to submit Banners, and new banners will be showcased every day there is a new banner. To increase the completion, special trophies will be given to those who make a banner, and the top banner will get a #1 Banner Trophy. I would like custom banner for this contest, and would love to see you guys make me an awesome one.
Criteria:
-Must have one or more of the following: a monster, a spore monster, a monster hunter
-Must be appropriate
-Style is open to interpretation, go wild
-no inappropriate banners will be accepted, anyone who submits one will be banned from this thread.
Well, that about sums it up. This is one of my biggest contests, and I would like to see a lot of turn out. Feel free to make as many things as you want, I don't care. I just want this contest to be big, that's all that matters to me. If you have any questions or suggestions, post it here, pm me, or comment on one of my creations at my Spore page:
Link1299
Hope you guys enjoy this, I will be watching this closely. Have fun, and keep hunting friends.
Sincerely,
Link1299