Welcome to the Ruthless Galaxy Main Thread! This is where you can take a roll on in the never ending story of the galaxy! Here you can enter a race, an empire of aliens, and have them compete with or against other races! We have a
forum
as well as an official
Xat Chatbox.
We also have a wiki, which you are
required
to use. Read the rules as well as The Sporum forum guidelines and above all have fun!
The Form
_________________________________________________________________________________
[Insert Creature Pic Here]
Empire Name:
Creator:
Sporecast:
You don't have to start out with a Sporecast but it is recommended that you do. IF you don't have one yet put "Progressing"
Species Name:
Homeworld:
Enter the name of the homeworld of your people.
Size:
Explain the size of your empire and how large it is.
Biology:
Any physical features you'd like to point out? Any internal or external characteristics you'd like us to know?
Religion:
Optional. What religion do your people follow?
History:
Include the complete history of your race. Be sure to include as much info as possible. We need these little details to get the best image of your race. Be creative!
Culture:
What do your people like to do in their spare time? What do they like to eat? How do they dress? What kind of places do they like to go to? Explain everything please!
Military:
Describe your peoples' military, if any. This is CRUCIAL to the sheet and needs to have as much information as possible. Flesh it out completely.
Government:
What kind of government do your people have?
Style:
describe your empire's styles. For example attack styles: swarm like, formations, legions, what? This section is crucially important. Describe as much as possible. Post in game pics if you have to.
____________________________________________________________________________
Entering Your Race
We have certain expectations of our races. If your creature is not well created enough you may have to change some of its aspects or quit.
Another thing, your race must have certain standards.
1. Your race cannot be too powerful. By this we mean it overpowers the others. Your race can have great strengths if you wish, however it must also have a weakness so that there is a way of defeating them in adventures.
2. Regeneration is allowed. However there must be some way to stop the proccess.
3. Magic is not allowed, however you can have some sort of physical or technical reaction that may appear to be magic yet can be explained scientifically. And by magic we dont mean "harry potter" magic, we mean a strange ritual or some sort of voodoo-like thing. Not wizardology.
4. Infectious specimens are allowed but must have some way to stop the infection.
5. Your empire can be as wealthy as you please. It can also be as poor as you want. It is up to you.
6. We recommend that even if you enter a weak empire, you give it some strengths so that it does not end up in the Extinct Empires category.
7. You are required to make a wiki of your race as soon as you enter them and they are accepted.
8. Also, once you enter a race, you CANNOT proceed unless accepted by a moderator.
9. If you have a YT account we would appreciate it if you make some videos
We here at RG are pretty flexible about the look and personality of your race. However there are certain standards that you have to follow in order to join.
If your race does not exactly fit in around here we may ask you to change a few little things, just to help your people fit in.
Be sure to be creative, we love unique races with unique aspects. Our most favorite races, are the kinds that have been created previously, and not specifically for this club. A great variety of those races certainly makes for an interesting mix.
Superweapons are allowed and indeed wanted here in RG. However spore superweapons lack in all ways possible, both in realism and in awesomeness. Superweapons that are allowed here are things that are unique and powerful. The ability to destroy a planet is allowed, however not at all considered a planet buster.
Inspiration is always a good place to start. Get some ideas from other creatures and races from places like Sporepedia, StarCraft, Halo, or any other great place you can think of. Get a good idea of something to create. However, in no way at all should you potentially rip-off another person's race unless given permission by said person. If you are given permission to use references to the person's ideas, we the moderators must be able to contact this person in our chatbox to ensure proof.
We of RG absolutely love the idea of regeneration ability; however in some cases regeneration is overpowering it a bit. If your race has this ability, note that there are boundaries. There must be some way to stop the regeneration, and there must be a way to kill the specimen altogether. The moderators will tell you if you are overpowering a bit or if you are underpowering your race.
Please, do not underpower your race. We don't like to see a slew of races in the Extinct Races section of our wiki. Underpowering your race will lead to immediate destruction of said race. Every once in a while it's ok to let a race die out, however we don't like it to happen all of the time. If you've created a race made especially for the club that is not at all important at all, then you are more than welcome to kill them off. However in some cases with an original race made on your own without our influence we do not urge you to carry out the hatchet so quickly.
Ruthless Galaxy is not at all entirely a war club. We also develop cultures and characters; we work with philosophies and interact with each others' races. We have a great mingling system working out right now and our races certainly have some interesting encounters. We do enjoy the warlike storylines quite a bit, and in fact love those shades of conflict, however to keep things a bit more juicy, the great thing to do is work on some cultures and build up societies.
Remember your race can have as much war involvement as you wish. They can be involved in the wars or not. If they are not involved that much, than please remember to help progress them and their ways as much as possible. If you are not involved in the war groups than please build them up in our culture projects. Would you like a negotiation with another race? Some sort of trade or compromise? Just ask another member willing to do so with their race and you'll be able to do some great mingling.
No matter how isolated your people are you are still obligate to intermingle with other races. No matter how isolated you have obligations to interject with plots, stories, or just plain old situations.
Wiki Requirements
Again, you are indeed required to create a wiki for them. This is highly REQUIRED. Due to the fact that we were unable to create our wiki any sooner, some of our races do not have wikis at the moment but we'll fix that as quickly as we can.
It's quite easy to become a member. You are not required to activate your account by email or to give out your real name. In the registration for the two things are asked of you, however if you do not wish to give your information out then just leave the boxes blank. All that we really need is your username, password, and a quick letter test. We respect your privacy here in RG.
Once you are finished you can register. It's very easy to create a page. Up in the right hand corner of the page there should be a search box. Type in the name of the page you wish to create. Then click search. Knowing that the page is not in existence, it will give you the opportunity to create it. Click 'create (name) on this wiki!' and you can instantly create the page.
The safe thing to do is to save your page in your general word processing program in case of a spam or troll attack. This has happened to us on our old wiki. Luckily we were able to get a new one and now it is a members only editable wiki.
Things your wiki must include
Yes, we have standards for the wikis as well. However these standards are nothing you need to worry about. In your wiki you must include:
A description of your race
A biology section describing the bodily structure of your creatures, their organs and bodily functions, and how they reproduce and give birth.
A history section showing a very detailed segment on your race's history from the beginning of their evolution. Be sure to list how they were created and how they evolved.
A VERY detailed section about the race's culture and society. Be sure to include how family life is, how the people live, what they like to eat, what their daily activities are, what they do for a living, things they like, things they hate, why they dress the way they do, and all of these little details that will help us get how your race is. This will really help us get to know your race and will help us shape and recreate what you usually make in adventures.
Be sure to include how your race is involved in the war (if at all).
This is completely optional but a good wiki always has a Notable Figures section depicting the great overseers of your race. These figures include generals, commanders, emperors, and even just general characters that may seem famous or that you'd just like to point out
Be sure to include a good summary at the end that sums up all of the crucial details of your race.
At the very end of your (race/empire) wiki be sure to add this code: [[Category:Empires]] so that it will be shelved in the empires section.
When creating the title for your wiki DO NOT add the word 'the' at the beginning or your race will be shelved in the category of the letter T. Be sure to make the page name start with the empire name. For instance: Dranzoot Sovereignty would be the name for a wiki. We don't add 'the' at the beginning. We've made this awful mistake in the past and don't wish to do so again please.
The Respect Policy
You WILL respect other people and their decisions here in RG. You will not insult them or their creations in any way or you will be dealt with, with immediate suspensions (bans) and if the situation is worse enough, SporeMasters will be alerted and will take care of the situation.
In no way shall you ever attempt to perturb another user or provoke them to flame you. If you do not know what spamming, flaming, or trolling is, then I shall tell you.
Spamming: Spamming is when you fill your post with random crap. For instance, let's say that someone types the letter 'A' like a million times and posts that. That is considered spam. Smiley spam is another type of spam, however it involves emoticons.
Trolling: Trolling is when you do anything to perturb another user (perturb means to disturb, upset, worry, trouble). Don't do this please.
Flaming: Flaming is when you post something that may be mean or insulting and is directed to another user. Flaming is not allowed here and will not be tolerated.
Flame Baiting: Flame baiting means to post something that may provoke another user to begin a flame. This will be met with the same consequences as flaming and anyone caught doing this will be treated equally blameworthy.
_________________________________________________________________________
The Map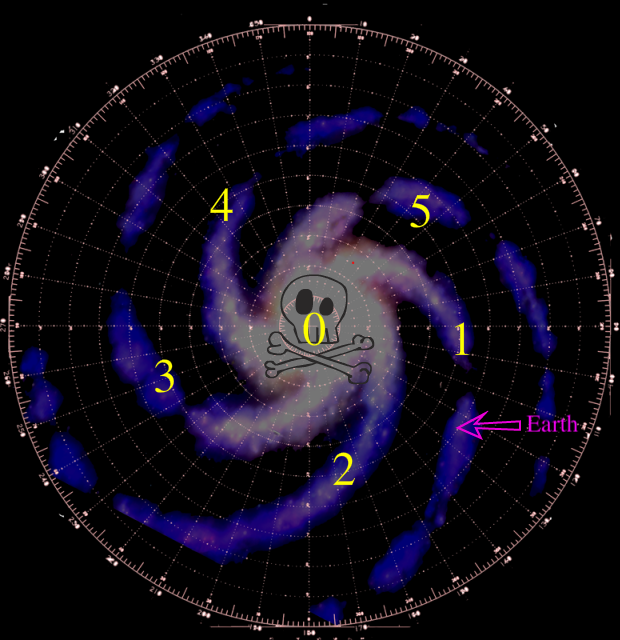 This is the galaxy map. We will use this to determine our battle and planet locations.
Other Maps
Third Arm Confederacy Zone
______________________________________________________________
Ruthless Galaxy FAQ
Have any questions and need answers? Here's a list of questions and answers to them. You're more than likely to find one that helps you.
Question:
What is wrong with my race pic?
Answer:
If you are asking this question it means your race pic is probably too big or not valid for entry.
Question:
Why is my race not shown in the race archive?
Answer:
You either did not fill out the form correctly or your picture of your creature is not valid for entry. Your creature pic should be the size of the pic below.
Question:
Do I have to make my race have the same archetype as it does in the actual game?
Answer:
of course not! Here you can give your empire what ever archetype you desire! Plus there are no Devourists or Freedom Fighters in the game right? Just pick whatever you want. This is up to you.
Question:
What is a sporecast?
Answer:
A sporecast is a group of creations put into a large list so organization is better. It is required you start with one. While you are online and in your game you can create, delete, and edit sporecasts by looking at your sporecast collection.
Question:
Why was I banned?
Answer: First of all, you should not even be asking that. We would tell you. But anyway you were probably banned for violating one of our rules. Also keep in mind that the thread rules apply to the chatbox as well.
Thread Rules
1. No
trolling
,
spamming
,
flamming
, ect.
2. No discussing
sexual topics
3. No fighting or arguing. Have fun.
These rules apply to the chatbox as well.