I have my Tai'Leea description pretty much completed. I also have a new creature, and nearly had a photosynthesizing Imperia till my computer crashed a couple minutes ago.
Species Name:
Peratergum plumaos
Native Name: Reighaloiseer'Aref, Rankei, Hea
Human Nickname: Rainbow Chicken, Sumo Bird, Lafaard, Knocker, Klopper, Hell Bird, Sleep Killer
Location: These fluently named Peratergum are native to the dense tropical forests of lowland Felland.
Taxonomy: Taxonomic ranks in this format: Life --> Imperia --> Disymmetra --> Ferecorda --> Duososida --> [Order] --> [Peratergum] --> [Infligo] --> [plumaos]
Habitat: Dense tropical lowland forests.
Appearance: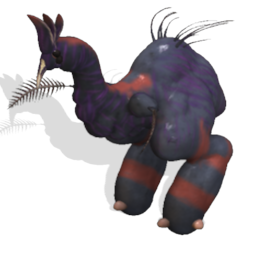 Diet: The Kloppers are Imperiavores and feed on members of Photosyntha, which in these tropical regions grow into massive forests. They will not pass up small amounts of carrion when available and in one or two instances they have been reported killing much smaller creatures and eating them.
Special Anatomy: Reighaloiseer'Aref as the natives call them, or Kloppers as a Dutch speaking explorer called them overall fit the stereotypical Peratergum. But do to a separation from the normal climate that one finds a Peratergum in their autonomy shows some major differences.
For starters the usual four slits found on the chests or sides of Novusita creatures their slits have melded into their necks and have instead transformed into a series of lumps down the Klopper's neck easily pull in oxygen through their thin skin and into the lungs.
The head has been modified too, instead of the usual exhalation pores and sensing antennae the two organs have fused into a crest which both picks up electric fields and constantly releases bi-product gases. The skull has modified into a pick like tool which allows the Klopper to stab into the tree-like trunks of Photosyntha and then using their mouth parts feed on the sap.
Their mouth parts have lost almost all recognizable resemblance to traditional Peratergum mouth parts. The usual single massive jaw piece has been reduced to a similar to that of its other two respective jaw parts. A tube of cartilage with branching feather-like stalks takes its place as a feeding device. The mouth part can easily flex and dig into a trunk and scour the fleshy insides for digestible material.
Mating means holding hands to copulate like normal Peratergums, the egg can only be found on the tip of one of the feeding tubes. This is always the left limb from the females point of view. Males instead of their seed contributes a packet containing condensed predigested sap to the other limb to keep the female from simply shaking the male off and leaving, much like many spiders and insects do on Earth.
The left limb containing the egg on the other hand is fertilized and then the egg, located at the tip of the tube is transferred to a slit in the female's pouch. Soon enough the tiny 6" young will emerge from the pouch and cling to its mother's back till it reaches 3' in length from which it will follow its mother on foot till sexual maturity.
Long hairs on the hump of a Klopper are thought to sense ultraviolet light for a purpose that it unknown to human explorers and researchers.
Description/Uses/Other: The Klopper or
Peratergum plumaos
more properly can reach sizes of over 10' in height and dwarf most other members of Peratergum. Dark and bright coloration is though to attract mates and even camouflage in the near eternal night of the forest floor.
Peratergum plumaos
is thought to be the hider of secrets to many native tribes around the Felland peninsula. Their boring into *trees and such have led to the belief that if you tell a
Peratergum plumaos
your secret it will hide your secret in the trunk of some tree and so your secret would never be found.
Peratergum plumaos
are though of as sacred creatures and are rarely hunted by tribes except for near the southern tip of the
Peratergum plumaos
's range where they are hunted and their hides and meat cure an burned as offerings to such deities they believe in.
Human explorers have given the
Peratergum plumaos
names like Hell Bird and Klopper (Dutch for "Knocker") due to the continuous thumping sounds created by the
Peratergum plumaos
as it drills into the trunks of trees. Sleep Killer is also occasionally used, usually after explorers spend a night in the forests. The term Lafaard (Dutch for "Coward") is also a commonly used term which originated as a joking term for the "Sleep Killer's" lack of fear from humans. This term is thought to have actually originated when explorers met the creatures on the southern end of the peninsula where man's bipedial stance was all to similar to the southern tribes of Xen'Vi which hunt the
Peratergum plumaos
.
*
"Tree(s)" is used here some what incorrectly as the forests of Nosuvita are filled with photosynthesizing organisms that belong to Imperia and have semi-complex organs more similar to that of animals then plants. In the forests these organisms grow stationary and are in most aspects what we might consider trees with trunks and branches and roots.