The Sporosaurs, and other Prehistoric Spore Creatures Catalog
You know what, i feel like trying this out my self, so here I go
With a mix of both the Sporkedex and Lords of the Past, there are a lot of people, including myself, who enjoy making up dinos. So why not store them here, where they can be recored, stored, and enjoyed by all.
How to submit:
Simply post the small png. picture of your sporosaur with a link, attached or separate, a name, and a brief description (or I'll make one) of your dinosaur, and what period it came from. Other details that can be included are size, weight, carnivore/herbivore, where it lives, and its order and classification (things like tyranosaur, maniraptor, ceratopsian, etc.). If you have any questions, please post them in this thread or comment me at my spore page (in sig)
How to become a member:
simply post an entry, and you will be added ino the members area.
Rules:
-Any prehistoric life, so long as its not alien
-no real dinos, these are Sporosaurs, and must be original
-REQUIRES small png., other pics can be added but small png. must be supplied to make OP updating proccess eased
-no inappropriate entries
-no off topic discussions, discussions about Sporosaurs and real Dinosaurs/Prehistoric life is allowed
-no trolling, spamming, and be nice
-please participate, I look forward to the plethora of ideas.
-no stealing, all entries will be allowed as long as they have the three prime things: a picture, name, a brief description, and it's period
-do not make omni creatures. These are creatures with descriptions that describe them as the "most" or "best". This is not fair and it creates conflicts and arguments of who's was better. They're sporosaurs, it doesn't matter.
Updated last: 10/1/2011
Example Submission by me:
Click for sporpedia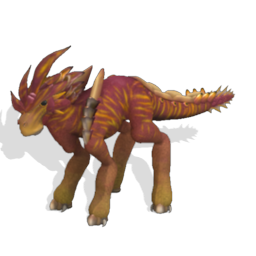 Name: Hippocarthus
Period: Cretaceous
info: Fairly advanced hadrosaurs, their long legs allowed them to run for long distances. They fed mostly on soft, lowlying vegatation.
other info:
Hadrosaur
Herbivore
Size: 13 ft. long (metric is allowed if you want)
Weight: 200 lbs.
and so on, superfulous information can be what ever you want, but it must the pic, link, name, period, and short description
Important to know
please do research before you post. I don't want to see things like maniraptors in the triassic, saber tooth tigers in the permian, and gorgonopsids in the pliocenes. Make the species relative to their era, unless you can justify it (a species of stegosaur has been found in the cretateous, but it was extremely rare, only fossiles we ever found, and they were at the very begining of the Creaceous)
if you need any help with naming a dinosaur, what period it might belong in, and what it may be related to, you can ask me here, I and any other dino nerds would be glad to give you an answer " )
Discussion Topics:
-Spore dinos
-Real Dinos
-Dinosaur Media
-Dino art (real and concept dinos)
-and anything else prehistoric related
-nothing related to trolls or spam
IMPORTANT
I will review submissions throughout the week, but every Sunday will try my best to update the Sporosaur Catalog, Art Catalog, and member list
NEWS!!!!!
-10/30/11
We have a new member Northe, thanks for joining.
Reminder, you need to keep creating!! Don't forget, we still have periods that don't even have sporosaurs in them yet, and the Cenozoic is baren!! Keep up the good work, seeya next week.
-10/1/11
ATTENTION!!! If there are any posts from this week, the OP will updated every Sunday. I will try to keep to this as best as I can, if I don't update, it is not because I have forgotten you, it's because life can get in the way.
Also, I'm updating the rules, updates: must require small png instead of large,
update takes effect Monday
.
In Other news
, we still have blank periods!!! We need more species in other than the Cretaceous!! We haven't even had any Cenozoic species, only one entry has been submitted, but I can't submit it until I know what epoch it's from.
Calling all artists and sig makers!!
I need banners, and all banners and art will be posted on this thread. Featured banners will be posed at the top under our name, and can change. If I feature a banner, it is subject to change if more than one banner is available, around every week to two weeks
(this is not concrete, if I am ever unactive for more than a given period of time)
. Themes must have: dinosaurs, name of club. Can include: videogames, spore creatures, real dinos, dinosaur art, can vary in tone as long as appropriate (don't make a velociraptor disembowling another dino and give a neon pink background...).
Does not include
: inappropriate pictures, sporn, or anything else deemed inappropriate. All are welcome to participate.
Thanks, and I hope this is greeted nicely. I hope you guys submit some creative stuff!!!
(if there are any suggestions to the editing of this thread, please pm me rather than post here)