CONTEST CLOSED
Although the contest is over, the awards have been presented and the Galactic Adventure has been released, you are free to continue the discussion here if you would like. We'll monitor the thread for a couple of weeks more. (10/31/10)
GALACTIC ADVENTURE RELEASED

<---Woohoo! The GA is finally ready!
AND Here's the GA Medal -->

You can find them both here:
http://www.spore.com/sporepedia#qry=usr-tuinahvuni|500200210404
The Cast List for the Ghost Town GA:
Ace-of-Shades The Pit and the Pendulum
Airedale11 Ghostly Bubbles
ALT1998 The Wicked Trickster
AnsjeDark Creepy Furniture Set
AnsjeDark Skeleton Buggy
Bites_his_Nose Vampress Lufia
Bites_his_Nose Warden of the Damned
BlackK_Fire Pig Head on a Stick
Boo2u Retici PythoBoo
Candiv The Nut House
CantaloupeFish Human-Faced Dog
CantaloupeFish Spooky Furniture Set
chrisiam50 UBD-Buthcer Blob
chrisiam50 Werewolf Cyborg
CloudyVision Haunted Building Set
CloudyVision Spaceship Wreck
Connor102 The Bloodhouse Schoolhouse
Covest Sir Derrick Jones
Covest Witch's House
cwarloe Skull
Cyborgraptor Creature in the Box
CynderFlamer Guillotine
Dalmatious Don't Lose Your Head
darwinken Bates Motel
darwinken Thing
darwinken Zombie Barbie
delayedreaction Mr Curtis and his Car
delayedreaction Old Rusty Wheelchair
Dirtymeat Raven Unforgiven
Dirtymeat UBD-Minion of Pain
Dirtymeat UBD_Seance Table
doloreg Armless man
ELolli Bella
Evex_ Meat Hook & Corpse
Excalibur House on the Corner
FeverFlare Skeleton Jester
Firesoul135 Infectoid
Forrest93 UBD_Rapture
Gengar114 Grindour
glasspinne RIP, DiabloDog
GrandPeep Mrs Monster
Grendo Gothic Set
gruntmold Innocent Trick or Treater (pumpkin)
Jadynna The Apparition
Jadynna UBD_Blood Fountain & Pit of Evil
Jadynna Unforgiven Spaceship Crash
JasonShadow1138 Shadow Seriph
Konkret66 Woman-in-well
krikalegos The Lady Nelson
krikalegos Vile Heart
krikalegos Viscious Raven
Malganis_Lefay Crashpoint Set
maxo12 Altar of Darkness
maxo12 Sacrificial Pit
MckConor Abandoned House
Meekota Voided House
Michael042296 Assassin
MichaelmodPerry Church & Clock
MichaelmodPerry Crashed ship Set
MichaelmodPerry Emiline
MikeSinner Graveyard Set
MikeSinner Insatiable Hunger
MikeSinner Undefined GoopSoup
MillyD13 Giant Tarantula
MillyD13 Zombie Dog
Mushroomking1 Dhead Library & Townhouse
Nachobag Man Eating Monster House
Ooglioknacktid Abandoned Carpark
Ooglioknacktid Pipe Leech
Ooglioknacktid The Dark Krypt
pelicanthor Creepy Set & Elegant Head Stone
phoenixtaloh Horror
possum95 UBD-Ghoul
possum95 UBD-Vampire
Quaizor Emptied Mausoleum
Quaizor Ghost Town Crash-Site
Quaizor Grumps McRooty
Rastaan Mystique
rogers1197 Fluffers
scott08 Archangel
scott08 Buzzcut
Sethan777 Dark Dreams
Shibby1313 Gargoyle
Shibby1313 UBD-Ghost
ThanathosNecros Darkness
The Grox-ifier Ghost Town Grave Keeper
The Grox-ifier Ghost Town Graveyard Entrance
typomazoku Destroyed Lifepod
typomazoku Old Mausoleum
Unpronouncable Coffin Doorway
Unpronouncable Shuttlewrecked
Unpronouncable The Mad Man's Shrine
wulfe411 Barghest-posed
XanaTen Ghost in Pumpkin
zonkal UBD_A-Rod
Zozo2266 Possesed Pony Ride
If your name appears on this list then please feel free to download your award to your page and add the GA Prop badge to your signature. Congratulations!
GA SNEAK PEEK
NEW SIG & BADGES
NEXT CONTEST
Yes, we are going to do another contest - it will probably be in December/January. We are considering a time traveler theme. Grab your ticket and join us then.
AWARDS POSTED
Scroll down to see the award.
THE CONTEST IS CLOSED
As the clock chimes twelve, we say goodbye to Ghost Town for the next few days. The contest is over but the Halloween Party has just begun! We have lots of treats in store for you, all of your creepy prizes will be awarded on Thursday. And that's not all, we'll also have a sneak peek video of our upcoming Ghastly Ghost Town GA, starring many of your wicked entries. The adventure will be loaded for you on All Hallows Eve next weekend. We ask for your patience while the judges are pouring over your entries.
We also promised that there would be a template creation as a gift to you and a special signature that you can use to show you survived the competition.
We actually have two marvelous templates of haunted castles that you can use in an adventure or change in any way that suits you. Here they are: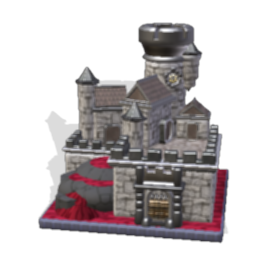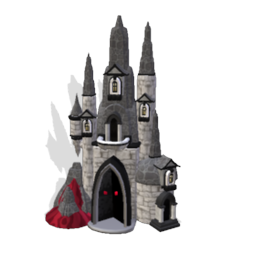 And all of you that wish to, can use the following special siggie to show you participated. Please download to your computer and upload to your accounts at PhotoBucket, ImageShack, etc. so that the bandwidth on my account isn't killed.
===================================================
ORIGINAL CONTEST ANNOUNCEMENT
(AWARDS BELOW)
Welcome to our Horrifying Halloween Contest!
Sporecast
GHOST TOWN CONTEST
(Sporecast is updated late each night. If I've missed your creation, please send me a pm with a link to your creation and I'll get things fixed.)
If you would like to see the creations in our Sporecast as of midnight October 13, 2010, please visit our thread at http://forum.spore.com/jforum/posts/list/330/64731.page#2862700
Hosted by:
chidog, OldRygel, TarsTarkas, TheZevaisFiles, tuinahvuni
Assisted by:
Medowmuffin, MindsEye, secret_user29, sErgEantaEgis, Zaragorne
Show us your ghoulish, frightening, and macabre creations. The best of them will come to life in Ghost Town, our ghastly Halloween Adventure! And that's not all...win terrifying trophies and spooky sigs to display on your profiles.
Can you survive a night in Ghost Town????
The Legend of Ghost Town
Deadly quiet. In the town ahead, there is no sign of life.
Something doesn't feel right. Maybe there is some truth to the stories told in spaceport cantinas. But still, this place isn't on the charts and isn't supposed to exist at all.
Those old traders whispered something about the Unforgiven, and their faces were white with fear. It was something about the planet...and crashed spaceships.
In the distance there is a creaking sound like great cogs straining to turn. A malevolent chiming begins from the dead clock tower. The Unforgiven are returning...the only way to escape is to learn the dark secret from the undead child.

Macabre Monsters
(creature editor) ~ Create your version of The Evil Unforgiven: werewolves, vampires, ghosts, ghouls, witches, zombies, demons, mummies, living skeletons, cybernetic monsters, mind probing aliens, dark elementals, or any type of supernatural creature you can imagine.
Avenging Angels
(creature editor) ~ Create your version of the "good" beings that oppose the Evil Unforgiven: angels, innocent ghost children, good witches, benevolent spirits, kind fairies, heavenly warriors, light elementals, or any other "good" supernatural creature.
Putrid Pets
(creature editor) ~ Create familiars for the Unforgiven: ravens, vultures, owls, spiders, snakes, black cats, demon dogs, menacing mech animals, or any other type of creepy pet.
Haunted Houses
(building editor) ~ Create your own Ghost Town buildings: dark mansions, haunted industrial facilities, dilapidated homes, mental hospitals, funeral homes, horrific hotels, and the like.
Possessed Props
(any editor) ~ Create creepy props: graveyards, spooky statues, possessed dolls, furniture for the haunted buildings, skeleton bones, blood fountains, gothic gates and fences, or anything else you think should belong in your Ghost Town.
Creepy Crashes
(space editor) ~ Create your space ship that crash-landed on the Ghost Town planet.
Vicious Vehicles
(vehicle editor) ~ Create freaky vehicles and other moving objects to travel the streets of your Ghost Town: hearses, possessed baby carriages, antique wheelchairs, rusted bicycles, black limousines, or anything else on wheels that creeps you out.
Writers Challenge
-- For writers only - a bonus challenge for you! Our story is incomplete and it is up to you to fill in the missing pieces. Expand the Ghost Town Legend on your creation's description. Who are the Unforgiven and what are they? Why are spaceships crashing on the planet? What happened to the people that lived in the town? Who is the undead child and what is the dark secret?
You don't have to have a creation to enter a story. Just put your story in this thread and it will be entered into the competition. Don't be bashful now - give it a try.
Entries with descriptions will be considered for special writing awards.
Top placers will also receive customized signatures.
You do not need a description to enter your creation
-- This is an additional challenge that is not a requirement of the contest, nor will it affect how your creation is judged. It was designed as a way for writers on Spore to be recognized and is a separate challenge from the contest.
INTRODUCING THE FILMMAKER'S CHALLENGE
Several of you have expressed an interest in making videos for the contest, so here's your chance. Showcase your Ghost Town creations in a short video, give it a spooky theme and try to scare us for extra points. Time limit approximately 3 minutes, must be your own creations. If you are planning to shoot your film from inside a GA, you are welcome to add other creatures and props to your film, including old creations, as long as they belong to you. You are allowed to use Maxis props. You do not need to publish your creations to the sporepedia to enter this challenge, just publish your video to this thread and you're entered! The winner will receive a customized "Filmmaker" siggie and a special award to display on your profile. So come on...scare us, you know you wanna!
Deadline
-- Entries will be accepted from September 24th through October 23rd at midnight EST.
Maximum of four entries
. -- You may enter in several categories or only one, the choice is yours. Maximum of four entries, unless you are making sets (see below).
Maximum Entry Exception
-- The exception to this rule will be for sets. If you are making sets of buildings, props, or vehicles; you may enter an additional four entries for your set.
Submitting Your Entry
-- You may enter by posting a link to your creation in this thread, or by informing one of the hosts on their contest announcement on the sporepedia.
Tag 'em
-- All entries must include the tag ghosttown2010.
New Creations Only
-- Only new creations will be accepted (dated between Sept 24 - Oct 23). If you have an old creation you want to enter, please rework and reshare as new.
Original Creations
-- No templates or edits of others' creations, please. Entries must be your original work (your own templates are okay).
Complexity
-- Entries made with the complexity (freedom) cheat are allowed, but be warned - due to complexity they will not be eligible for the adventure.
No Bot Parts
-- No Dr Pepper bot parts.
Allowed Parts
-- Creepy & Cute (C&C) parts and Galactic Adventure (GA) Captain parts are okay. All creature outfitters are okay also.
Please feel free to show off your creations in this thread. If you don't know how to go about making a picture of your creation and posting, there is a tutorial below the contest announcement.
Judging
Judging will be performed by the contest hosts. Winners will be determined by a compilation of points.
Awards and Prizes
The Grand Champion Award will go to the player receiving the most points from the judges on a maximum of four creations. The Grand Champion will also get a personalized, custom signature with a ghostly theme.
Trophies will be awarded to the top creators in each contest category.
First Place Awards will include a customized signature image featuring a ghostly theme.
The best suited creations for scenes related to the storyline will be used in a Ghost Town Galactic Adventure. If your creation is selected for use in the Galactic Adventure, you will get an award.
Everyone who participates is entitled to use the signature image below to show they are participating in the contest. (Download the image to your computer and use it from you shared image website of choice - see How To section below)
Below are four contest badges that you'll see. These are earned badges. The first is for those contestants whose props or creations were used in the Ghost Town Galactic Adventure. The second is for contest winners. The third, IGOR (Internet Gaming ORderly), is for assistants helping us with the contest and judging. The fourth is for other volunteers that are not judges.
Hosts and judges will have a similar siggie and badges.
And of course after the contest has concluded and winners have been determined, the winners can bask in glory by being listed below as one of the contest winners.