Hey guys!
@Sapphire
Definition of
tutor:
To aid or help someone is a specific subject
That subject would be creating.
If you want to know how to post pics in
posts
, not comments, then here's the code:
If you are using Google Chrome, then right-click on the picture you'd like to post and hit "Copy image URL"
If you are using Firefox, then right-click on the picture you'd like to post and hit "Copy image location"
That's what the "URL" is
@Mini Watto
Great, and you gave the creature a perfect pose like it was about to take flight! Nicely colored as well, and the "fluff" adds realism.
@Scorp
Lol, just see what we've posted since you've last been here.
If we keep giving summaries, then before you know it, all of the posts here will be the exact same thing.
@mts
I have to sorta disagree with the feather theory, as most birds actually have feathers going all around the bottom half of the wing bones. Although it is a little "too fluffy". I hate using the pre-made feathers as they aren't very realistic. Watto, if you've got CnC, then try using CnC piece that looks like a single feather (I've forgot the name of that part, so if someone knows what it's called, then please tell me) and spawn it many times til the wing is complete.
If you do not have CnC, then try using the bone kneepads and spawn them like below. Using both sides of the kneepads work fine. If you'd like a rough texture, use the default side. If you'd like a smooth texture, flip it around using the tab key.
CnC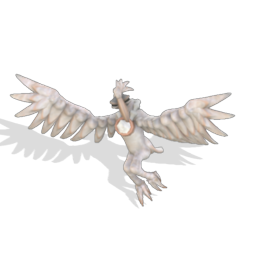 No CnC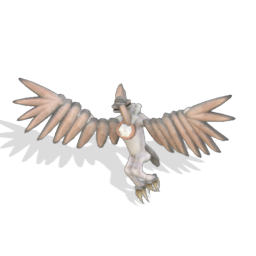 I did indeed make both of these creations.
I was holding a contest, so if you see this anywhere else, it was either a contest entry or "stolen" as they call it back at... you-know-where....
@mts (again)
The first one is a bit bland. I think you focused a little too much on the "rocks" in background. The coloring is basically only a single color. Try adding a few more detail parts and much more colorful ones. Don't be afraid to use the outfitter too. The beard is actually a great choice for what may be a replacer for the knurlies you used for the the torso.
Guessing by the two legs and long tail, I'm assuming that it's a wyrm or serpent?
The second one looks like a tribal creature. Is it...?
The tip board isn't there for no reason. Check it to try out some new techniques. I'm an outfitter you know, so I decided to share a few of my ideas on the tip board.
@whoster
Please specify a link to page and preferably a banner if you've got one. I don't want to go forum hunting. You know how dramatic THAT can be.
YES I KNOW THERE'S A SEARCH BAR. I'm not dumb. No need to remind me.
If you don't have a banner, then that's fine, I'll just make the font at the sponsors page BIIIIIGG. o3o
(Secret: You get points if you sponsor the NCA in any groups you may have.
)
@zach
I wish you luck.
Yeah, I didn't even need to read the second post in order to figure out that you were Texas. I heard there was a tornado there.