Planet Avin
Around 10 million years ago, a race of incredibly intelligent beings created a genetic masterpiece. They called their creations
Avinoids
. As an experiment, they planted these creatures onto a planet rich in life and waited - watching their creations evolve...
This planet is a lush, semi-tropical world called
Avin
(
Ay-vin
) by these beings. There are two moons present in the night sky, the closest and largest,
Avin I
, appearing bright bleu, while the smallest and furthest,
Avin II
, appears a reddish-gray. Avin is incredibly geologically active, it's fastest plate travelling at around two miles per year. Earthquakes and volcanic eruptions are common, and the life forms of this world have adapted to cope with this. What made the Avinoids different was in their DNA. They are immensely adaptable, yet genetically stable, only evolving when needed. They have since branched off into a large group of separate species, from wild to civilized.
This RP is about life on this world. You will play as a member of an Avinoid species of your choosing, or even making. You can design you species in Spore, then your nation philosophy and lifestyle (optional) and finally create (in Spore, if you like) your character.
Here's the world map of Avin. You can use it to state your location in the nation sheet and I'll fill it in on the map:
Continenets:
-Hithar (
He-thah
):
Hithar is a mountainous, wooded continent. It is nearly entirely covered in mountain ranges. It's northern tip is covered in lush, Scottish-like grasslands, while it's central part is largely tropical jungle. South of that, lies woods for as far as the eye can see, while it's Southern tip is polar tundra.
-Deathar (
Day-thah
):
This large desert and semi-tropical landmass is encircled by mountains at it's coastlines. It's interior is largely savanna and desert, but near the mountains you'll find tropical woods. It is slowly tearing apart into two separate continents.
-Northar (
Nor-thah
):
This is Avin's only truly polar continent. Like Deathar, it's coastline is encircled in mountains, while it's interior it largely flat. The only part of it that's not covered in ice year round, is the wooded Southern peninsula. There are believed to be massive cave systems under the ice.
Seas:
-Northern Sea:
The Northern Sea is the largest of Avin's five seas. It forms part of the coastlines of all three continents and boarders on the Hitherean, Deathan and Dividing Seas. It's northern stretches are covered in ice during the winter months.
-Dividing Sea:
The Dividing Sea is called so partly because it is the only sea that is centrated on the equator. It forms part of the coastlines of Deathar, Hithar and the Southern Islands. It boarders all seas excluding the Hitherean Sea.
-Southern Sea:
The Southern Sea is nearly entirely covered in ice year-round. It's relatively still during winter months, but incredibly stormy in the summer. It forms part of the coastlines of Deathar and the Southern Islands and boarders on the Dividing and Deathan Seas.
-Deathan Sea:
The Deathan Sea is divided from the Southern Sea via the Southern Islands that form Avin's "South Pole". The southern part of the Deathan Sea is permanently covered in ice, while it's northern part is heated by the equator. It boarders on the Southern and Dividing Seas and forms part of the coastlines on Hithar, Deathar and the Southern Islands.
-Hitherean Sea:
The smallest of Avin's five seas, the Hitherean sea is a stretch of water dotted with thousands of tiny islands. It forms part of the coastlines of Hithar, Northar, the Northern Islands and the eastern islands of Deathar. It's northern part is largely covered in ice, while it's southern part is tropical. Because of the large nomber of islands and climatic confusion, the Hitherean Sea is incredibly stormy year round. It boarders on the Deathan and Northern Seas.
Nations:
(See map bellow.)
The Civil Regime of Hithar
Blue
The Western Alliance
Red
The Disciples of the Shon'Dah
Light Blue
The Cult of Darkening Shadow
Black
The Flight Empire
Dark Purple
The Underwater Nation of Beings
Dark Bleu
The Republic of Walaykaysa
Teal
The Isle Avinoid Confedracy
Maroon
The Imperium Britannica
Green
The Secluded Atlan Republic
Gold
The Plains Nation
Dark Yellow
Grey lines: Nation boarders
Small gray dots: Large cities
Large gray dots: Capitol cities
Coloured areas: Nations
Uncoloured areas: Free area
War!
There is currently a global war (the second, infact) going on across Avin. There are two factions: The Global Rebellion and the Pact of Rausten. Below is listed the nations/groups belonging to each faction. Below that, there are special "war rules".
PR Factions:
Founded under the Imperium and Regime, the PR is a kind of "United Nations" of Avin. They can sometimes seem rather loose in their alliance, but fights side by side against the onslaught of the Global Rebellion. They can be viewed as the Allies of the war.
-
The Imperium Britannica
(Main)
-
The Civil Regime of Hithar
(Main)
-
The Walaykaysan Republic
-
The Underwater Nation of Beings
-
The Plains Nation
-
The Isle Avinoid Confederacy
(Non-fighting - simply supply)
GR Fections:
Originally nothing more than seemingly unconnected rebel and terrorist groups sprouting all across the planet, it was later found that they all share the same alliegeance when the Western Alliance invaded Walaykaysa. They can be seen as the Nazis of the war.
-
The Cult of Darkening Shadow
(Main - utterly hidden and unknown)
-
The Western Alliance
(Main - or so Avin thinks)
-
The Democratic Rebels
(An Imperium terrorist group)
-
The BKMJ
(A Walaykaysan terrorist group)
-The Cultist Agents (Hidden global spy network directly controlled by the Cult of Darkening Shadow)
Neutral Factions:
-
The Flight Empire
-
The Akkarid
(Extra terrestrials living in Northar and controlled by Gorgenmast - As of yet unknown and uninformed of the war)
-
The Secluded Atlan Republic
(Even more secret than the Cult)
-All on-nationalized tribes
-
The Advent of the Unity
(A secretive and mysterious organization, located somewhere within the great Deathan desert)
War Rules:
-Please post all GR allied posts in red, all PR allied posts in blue, and all neutral posts in black. Headings (eg. Location) remain black
-Never automatically assume the outcome of a battle in your own nation's favor. RP's aren't about winning, they're about writing a story and having fun!
-No meta-gaming, auto-dodging or (especially) auto-hitting what-so-ever!
-Armies, weapons and supplies don't just pop out of a factory, they have to be trained, build and/or manufactured. It takes money, time and labor, and in the case of soldiers, it'll also lessen your average working population, witch will reduce your rate of income. Forcing citizens to join the army will likely make your populace unhappy and may even start revolts, if you're a good enough story teller
Here are the regional and tectonic maps:
A note on the "Ice Seas": These areas of seas are not completely covered in ice, instead, they only represent the extent ice shelves and ice burgs travel before they melt.
-Red Lines:
Plate boundaries
-Red Areas:
Earthquake zones
-Red Dots:
Volcanoes
This is a diagram of Avin's geological history:
The bleu represents the ocean, the green represents relatively flat land, and the brown represents mountains.
Here are the Avinoid species made so far:
Prehistoric Avinoid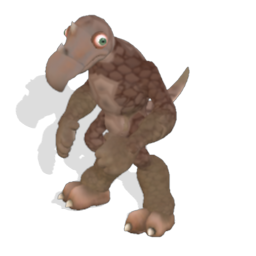 The original genetic experiment planted on Avin - now extinct.
Wild Avinoid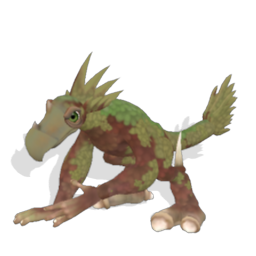 The closest living relative of the Prehistoric Avinoids. They are about the size of a Labrador and live basically anywhere not already inhabited by another Avinoid species. They live a life-style somewhere between hunter-gathering and pride-life. They are capable of speech, but not of writing.
Frost Avinoid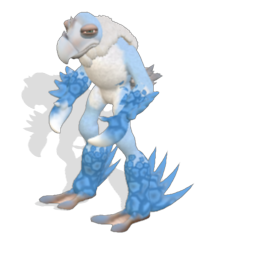 This species of Avinoid is specially adapted to living in icy climates such as the pole-tundra's and high mountains. They live a tribal, Eskimo-like lifestyle. They have mastered simple writing. They are a nation race*.
Civil Avinoid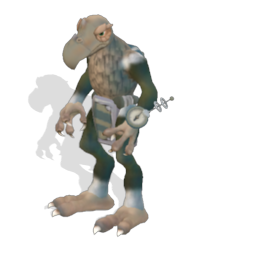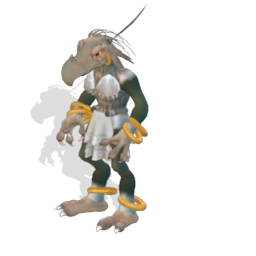 The most technologically developed species of Avinoid, having discovered electricity. They live a futuristic life-style, yet are very religose and have mideval/gothic/roman-like architecture. They have already sent an expedition to Avin I. They are a nation race*.
Cave Avinoid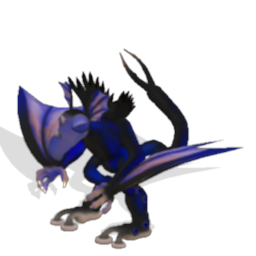 These nocturnal creatures are specially suited to living in dark, cave environments. They are one of they few flying Avinoid species and have a life-style similar to that of bats. They speak in clicks and squeaks and have mastered simple writing.
Aero Avinoid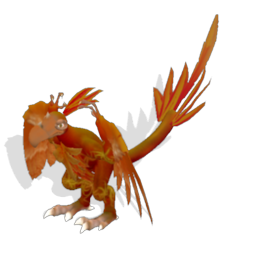 Like the Cave Avinoids, these creatures can fly. They are, however, not nocturnal and build their settlements in trees, not caves. They have a life-style similar to that of birds and the Indians in North-America.
Aquatic Avinoid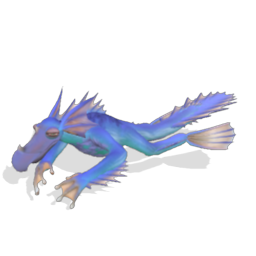 The Aquatic Avinoids are the only life-long swimmer variation of the Avinoid genus. They are capable of holding their breath for an astounding 12 hours. They live in bubble-plants, found in coral reefs and kelp-forests on the ocean floor. They are the second most intelligent species on Avin. They are a nation race*.
Shadow Avinoid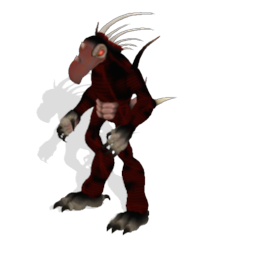 One of the few noctural Avinoid species, shadow Avinoids live in the dark. They are vengeful and resentful and do not take allies easily. Unlike most other Avinoids, most Shadow Avinoids do not worship the three (the Jailen'Jah, Aaril'Ka and Shon'Da), instead, they worship the Shadow...
Jungle Avinoid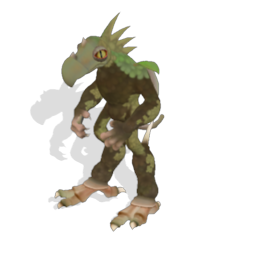 Very closely related to Wild Avinoids, Jungle Avinoids have a very similar lifestyle. Their hands, feet and tail are specially suited to gripping onto branches and vines. They are semi-nocturnal and more intelligent than their wild cousins.
Sand Avinoid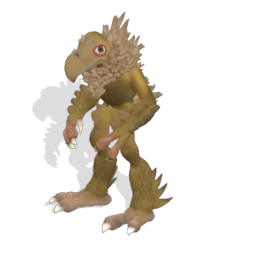 Remarkably, the Sand Avinoid's closest relative next to the Plains Avinoid is the Frost Avinoid! Unlike their poler cousins, Sand Avinoids live in deserts and savannas. They have a lifestyle similar to that of the African Bushmen. They live largely in Deathar.
Wetland Avinoid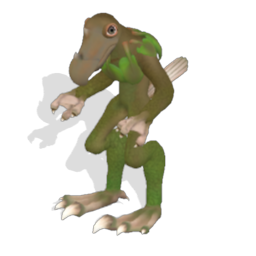 Living in the dank shallow water mangroves and bogs of Eastern Deathar and South-western Hithar, the Wetland Avinoids are, for the most part, swamp dwellers. They build crude treehouses in the groves that fill their enviroments. They are, intruth, closely related to Aero Avinoids, but devolved their featheres over millions of years. Only leaf-like, vesigial feathers remain around their shoulder-neck area.
Deepsea Avinoid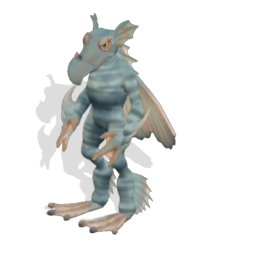 The Deepsea Avinoids are some of the strangest species on Avin. They have specialy adabted for life in the deepest parts of the oceans. They can withstand extreme presures, though are destroyed by low presure enviroments. They breath via slits between their ribs that obsord oxygen out of the sea water and into their lungs. The live in grand cities and are a nation race.
Cavetribe Avinoid
Living deep within the vast cave-systems of Hithar, they are adapted to life in underground water. They are the main species that conect all Cave, Aquatic and Deepsea Avinoids to one common ancestor. They have mastered fire, but are still at a tribal level.
Shamanis Avinoid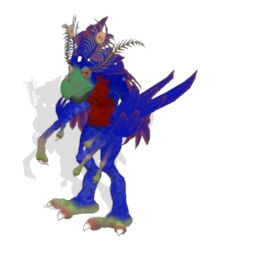 A rare, near extinct group of Avinoids closely related to the Aero Avinoid, the Shamanis Avinoids once inhabited a large volcanic island, but when it erupted, it not only caused the area around Western Hithar and Eastern Deathar to experience a small mas-extinction, but also destroyed their home. Seaking refuge, the now desemated race formed strugling, scattered tribed accross the jungles around their destroyed home. They are "intuned" with nature and most are skilled shamans.
Island Avinoid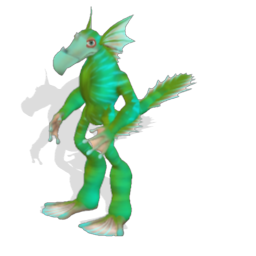 A close relative of the Aquatic Avinoids, this species has evolved a life on tropical islands. They still retain fins for swimming, but spend alot more time on land. They build huts, shacks and tree-houses simmilar to that of tropical human natives. Their suctioncup-like hands and feet allow for easy tree climbing.
Burrow Avinoid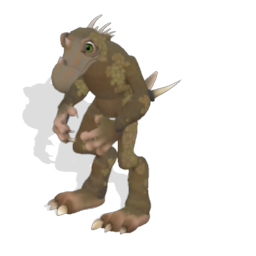 A distant relative of Shadow Avinoids, Burrow Avinoids too despise the light. Instead of living in caves, however, they burrow intricate underground cities with their claws. They are rarely seen by Avinoids other than Sand Avinoids because they only come out to the surface during the night to hunt.
Plains Avinoid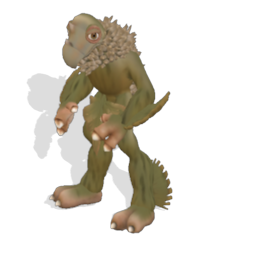 A secritive species that have managed to remain undiscovered for years, the Plains Avinoid is found in the savana's near the centre of Deathar. They have managed to form a complecated and advanced society in complete isolation. They are a close relative of the Sand Avinoid.
Here's a template. Copy and past the picture to your desktop, then drag and drop it into the creature creator.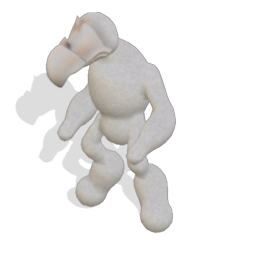 The rules for creating a species are:
-It must have
2 eyes
or
no eyes
at all.
-It must have
4 limbs
(arms/legs/wings/flippers).
-It must retain the
basic body shape
.
-It must have the
Buzzmuzle
part as a mouth.
-Leave enough
complexity to personalize
it into a character (optional).
-It can
have anything else
and
anything else can change
.
-As of now,
NO MORE AQUATIC SPECIES!!
-Please keep your species' name non-forein.
-Keep inmind that I might edit to fit it into a pertucular evolutionary branch.
Species sheet:
-
Species Name
: (Something
Avinoid
)
-
Environment
: Where does this species live? Forests? Deserts? Cities? It can even live in multiple environments.
-
Diet
: Omnivore/Carnivore/Herbivore
-
Description
: Describe the species' life-style and any other important info.
-
Type
: Nation Race/Tribe Race/Wild Race
*Nation races:
If your character is a nation race, then you must either add an existing nation of that species to your character sheet, or create an entirely new nation.
Here's the nation sheet:
-
Nation Name
: Name your nation - it can be as simple as "
The Blue Nation
" or as complex as "
The Coalition of Inter-Hibredian Creatures of the Continent of Hithar that has been Enlightened
" - it doesn't matter.
-
Capitol City
: The main city of your nation. This will be both your economic, religious and political centre, aswell as the home of your nation leader.
-
Nation Leader(s)
: What character(s) lead your nation? If you're yet to make one, leave this space open.
-
Location
: Use the world map to choose your nation's domain.
-
Nation Colour
: Give your nation a colour so you'll be able to recognize it on the map.
-
Species
: The species (can be multiple species if you choose) that form part of this nation.
-
Allies
: What nations (see OOC thread) are your nation allied with.
-
Enemies
: What nations are your nation at war with / do they hate?
-
Description
: Describe the nation's philosophy and the life-style of the people that form part of this nation.
-
Allegiance
: GR, PR or neutral
-
Specialty/Super-Weapon
: Your nation's absolute point of pride goes here.
-
Type
: Economic/Religious/Military/Scientific/Diplomatic/Free Nation <-- (kinda like the Wanderer in Space stage). You can have any
two
of them if you don't decide on
one
.
Finally, we get to the character sheet:
-
Name
: Even wild races give names to their young.
-
Gender
: Genetic stability causes all Avinoids to be either male or female.
-
Age in Human Terms
: How old would your character be in relation to a human?
-
Species
: Either an existing species comes here, or your species sheet comes here.
-
Nationality
: Either an existing nation (that your species forms part of) or your nation sheet comes here. If you're character is part of a wild, cult or tribal race, replace "Nationality" with location and type the name of the continent you're on –
tribes and cults also require names
.
-
Allegiance
: GR, PR or neutral? This doesn't necessarily need to be the same as your nation.
-
Appearance
: What makes your character unique? A picture (edited from your species)
would work best.
-
Bio
: Your character's history and personality comes here.
When all of that's done, you're ready to start!
Rules:
-The basic forum rules
-Absolutely no god-moding or meta-gaming!!
-A maximum of five characters per player is allowed.
-Remember that this is an Earth-sized planet. You do not have complete freedom of mobility.
-Any other rules that you could get out of the this post.
You may use my characters as examples – I will post three more soon:
-Name:
Commander Valcan
-Species:
Civil Avinoid
-Nationality:
-Nation Name: The Western Alliance
-Nation Leader(s): Comander Valcan (Civil Avinoid)
-Capitol City: __________
-Location: The Western mountains and peninsula of Hithar
-Nation Colour: Dark Red
-Species: Civil Avinoids and Frost Avinoids
-Allies: __________
-Ennemies: The Civil Regime of Hithar
-Description: The Western Alliance used to be a clump of minor-powers of on the western tip of Hithar. During the Western War, they formed an alliance against the enemy and so defeated them. After the war, they never split up.
-Type: Military
-Appearance: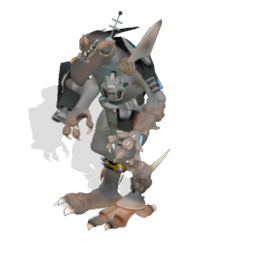 -Bio:
Commander Valcan is mot only a skilled and seasoned fighter, but also the commander of the entire Western armada. He will do anything to win a fight, no matter the cost. During the Western War, Valcan was simply a soldier, who was promoted to lieutenant, then to general and finally to commander, at the last battle of the war. Though the war cost him half his body, Commander Valcan would gladly fight in a war again.
-Name:
Falco
-Species:
Civil Avinoid
-Nationality:
The Western Alliance
-Appearance: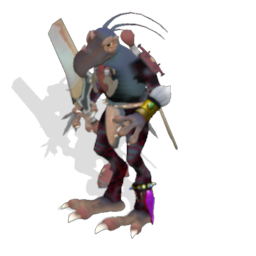 -Bio:
Swordsman Falco is not only the most skilled fighter in the entire Western force, but also the only son of Commander Valcan, though it doesn't always seem that way. It sometimes appears as though Falco would do anything for his father, but in truth, he just wants Valcan to notice him for a son, not a soldier.
Note: This is an active RP. Post off-topic posts in the
OOC thread
. There also exists a
Sporecast
, for those interested, with all Planet Avin related creations. Have fun!