Chiggennugget wrote:Awesome. Its like a useful version of those self-help books.
...
EDIT:
Here ya go!
Critique of SooperWalrus's Thing
(Name won't show up on the creature card...)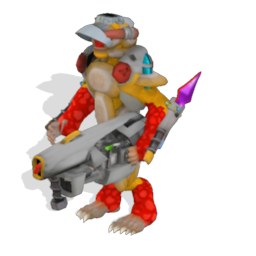 Ups
-I really like the gun and helmet. They're perfect and there's nothing to improve.
-The face is really cool, it makes him look like he's got a ninja mask on...
-Great pose, looks very humanoid, which makes the giant gun fit better.
-I like how you used the knurls on the head.
Downs
-Colors are
REALLY
weird. The bright red does not match the medium yellow and the gray at all. (No offense) I advise making the red more of a
dark red
and the base color more of a
dark orange
. (On the creature the colors should be darker than my typing). For the gray, you could make it a mix between light grey and black, so more of a dark gray. Remember that you can hold down the single color options to get a whole range of colors!!! (Some people don't know about that...)
-I'm not sure what's going on with the shoulder pads. It looks awkward under the arms... You could have used different shoulder pads and made sure they didn't hang below the armpits... And then use the piece that you used at the front of the hat (I forgot the name...) to replace the knurldowns you used!!!!
-The guy's left arm looks smaller because it's inside the gun... There's not much of a way to improve on this though.
- The hands son't line up with the arms... Fix it with the 'tab' button.
-The chest and leg knurlwork looks funny... You might want to replace them with the piece you used for shoulder pads. There's also a gap in the middle of the knurldowns on the head... You can fill that in.
-Textures are odd... They don't match. Try to use textures that are alike. If you want the whole body to be scaly, you can try to find the same texture for the body as you used for the limbs.
-I'm not sure what you were trying to do on the arms... they look a little funny. I would remove it and use Parkaboy's outfit rotating technique to make rings around his arms instead.
Stuff you should add
-Basically just more outfitter armor...
Hope this wasn't insulting, please tell me if it was. (It's my first time.)