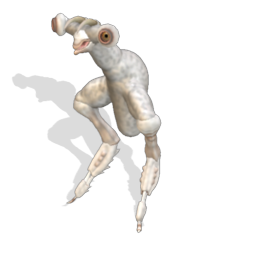 Ahh, here we have the majestic doodleflop. (Er, well, not TOO majestic.) A newly formed sporetonian holding buglike legs. It has just begun to evolve, and dreams of having his face in a sporecast one day.
LINK:
http://static.spore.com/static/image/500/469/018/500469018527_lrg.png
RULES:
Must keep general structure.
The only parts you can replace are feet and eyes.
Must have leopard print skin.
Answers to all your questions:
You may use cheats, invisilimb, and pose.
You can add parts, but not take away any.
If you must have a tail, go ahead.
You may use CC.
REWARDS!
1st place: 15 comments, 20 Rate-ups.
2nd place: 10 comments, 15 Rate-ups.
3rd place: 5 comments, 10 Rate-Ups.
ALL ENTRIES WILL BE ADDED TO THE DOODLEFLOP SPORECAST!