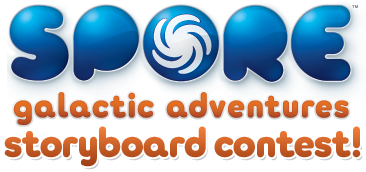 Storyboard contest winners announced!
1st place: Afterfate for "The Meaningless Turtle"
Afterfate authored the winning storyboard called "The Meaningless Turtle".
Maxoids Ian Armstrong, John Cimino and Guillaume Pierre recreated Afterfate's story in Galactic Adventures to make it into an official Maxis adventure! Download and play the mission.
Download and play the adventure simply by opening your Spore game and choosing it in the Maxis adventure Sporecast.
Storyboard Images
By
Afterfate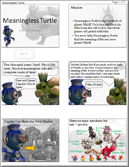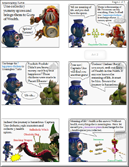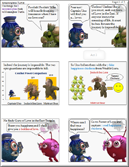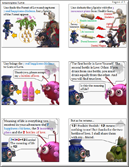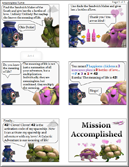 Adventure Preview
by Maxis





MaxisCimino wrote:After reading the storyboards it became clear to me that the player had created a rather interesting fable-like story that had very distinct characters with clear motivations. I had a lot of fun working with those characters and designing the environments to match their individual personalities. I especially enjoyed creating the temple for the Guru of Wealth …which, of course, had to be made of solid, sparkling gold.
MaxisIan wrote:The storytelling style kind of reminded me of an old myth or fable, complete with gurus and the meaning of life! It parallels something you might see in the stereotypical interpretation of eastern philosophies, where the hero travels great distances to find a wise man sitting under the tree of knowledge/power/something else symbolic.
2nd place: KrakenMK for "Evynwire Scroll Quest"
Thanks to everyone who submitted, it was a tough choice!
Contest Details

We want your best adventure ideas!
Get your best adventure ideas on paper and enter our Spore Galactic Adventures Storyboard Contest!
The first place winner will receive an NVIDIA© GeForceGTX™, a 3D printed Spore creature,
and
their storyboard will be used to create an adventure by Maxis developers! The second place winner will recieve 3D printed Spore sculpture. May the most awesome storyboard win!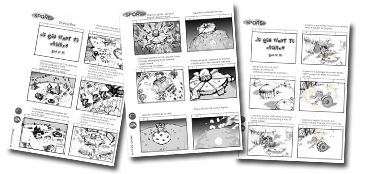 Official Contest FAQ
Q:Should I draw my storyboard on paper or create it with an image editing program?
Both methods are acceptable, but if you're going to draw your storyboard out, make sure you have access to a scanner so you can get it online.
Q: Can my submissions be in color?
A: Submissions can be in color or black and white.
Q: How many pages can I submit?
A: You can submit up to 10 pages.
Q: How do I create a storyboard page?
A: Use any image editing program, such as photoshop, gimp, or even ms paint! You can also use the free
Mashon Spore Comic Creator
!
Q: Where can I post pictures of my storyboard for others to see?
A: You're welcomed to post images here on the forum! Share what you've got, get feedback, and improve your entry!
Q: The rules state that the winners get 3d printed creatures. What creature will they recieve?
A: We'll ask the winners for a few of their favorite creations that they've made, and choose one to print for them!
Q: How many frames can we put in one page?
A: As many as you like. Just don't make it too hard for us to read or follow.
Q: Can we use stick men and Maxis fills in the blanks?
A: Yes. Be creative! Think outside the cube shaped planet.
Q: Can keys be picked up in one act and then carried with you and used in the following act?
A: Yes.
Q: I know that an act can include a goal such as picking up items (gems/treasure). Can you then have the captain 'give' those items to another sentient creature, triggering said creature to speak and provide him with valuable information that could aid in completing the mission successfully (info you would not otherwise obtain)? Or will the creature always speak to you upon encounter, without any gifts being involved?
A: Yes, actually, both scenarios described above can be implemented depending on what you want! In fact there are a few ways to do this. Here are some examples:
Set a goal for a captain to pick up a handheld item, and a goal to give the item to an NPC.
Set the act to be completed after these 2 goals, and set the behavior of the NPC in the following act to speak to the creature with the text you input. This text can be crucial info on mission completion.
You could achieve the second scenario by having the behavior of the NPC be to tell you that info when you have a talk to goal with it, without any gifts involved.
There are also other ways you could also achieve these situations, for example using the advanced AI conditional behaviors to set the NPC to talk to you only when holding the gem/treasure, but not to pick it up on its own, so your captain must deliver it to retrieve the info.
Q: I've heard rumor that you will be able to 'ride' other creatures in GA. Is this true?
A: No. The best way to achieve a similar illusion is to use a creature that looks like 2 creatures, one mounted on the other.
Q: Will I be able to create a complex maze or will the complexity meter limitations prevent this?
A: I've seen a number of cool complex mazes. I'll try to get more info on the current tuning of complexity and post more.
Q: Is it OK to use a Sporedum font?
A: This is a question for the legal team and I'll try to get an update, but in the mean time, I suggest that you submit an additional copy that doesn't use this font, just in case.