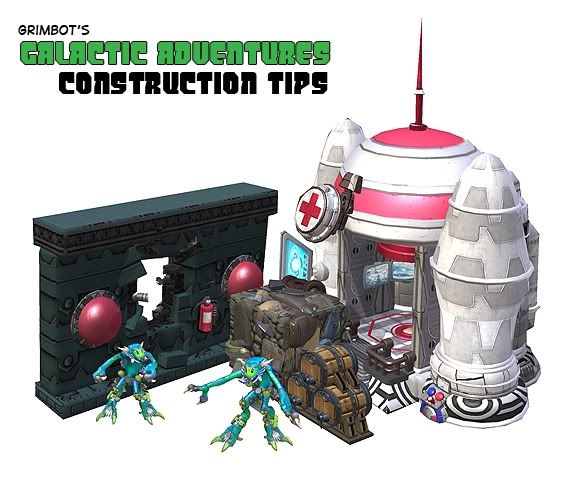 If you're building for GA, the first thing you should do (if you haven't) is go read the
Community Interview
and watch a few videos. There's some useful stuff in there! Also check out
Slartibartfast's Prop Shop
for some inspiration!
I have updated this post as of May 17th to reflect some of the info coming in from G3NJI, Fotosynthesis, Shattari, Masscolder, Gryphon57, Dananddna, Parkaboy, Slartibartfast38, and Terry from TnT-Productions who were able to make their own adventures at Maxis this week. Thanks to all of you for charting out unexplored territory!
I started this thread so I could share what I've learned (or sometimes assumed). Hopefully you'll have a few tips of your own when you're done!
Complexity:
It seems that the complexity limit for the Adventure Editor is so forgiving that it's almost a non-issue! That's great news, and it means you no longer have to worry about the complexity of any single asset. You can load 50 buildings of any complexity as easilty as 50 buildings that don't even register on the complexity meter.
But you only get 50 buildings, 50 creatures, and 50 vehicles (and possibly 50 space ships?). "Only".
And you can also "only" put 100 of each individual building, creature, or vehicle down. That makes it sound like you could have 5,000 creatures running around in a packed city full of cars... and I've got nothing that says that ain't true, despite the fact that it sounds like it would gank even the the most modern computers.
Flexibility:
Some of you will remember my original Dungeon Planet experiments. Aside from the glaring technical issues (more on that below), I'd chosen to pack each individual creation with the maximum amount of detail. There wasn't a single part that could be added to any of them because I'd always make sure I filled up the corners with crates or something.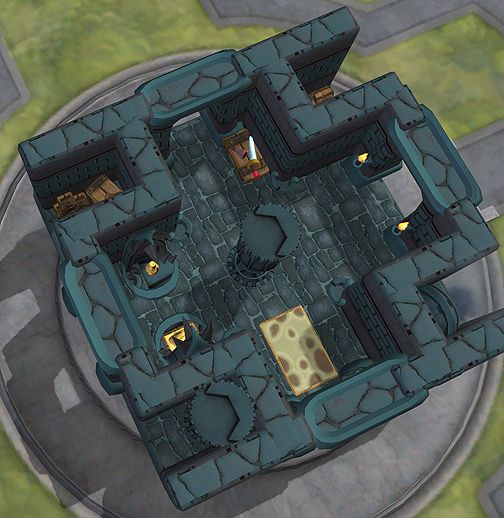 Nothing like rounding a corner and seeing... the same corner.
It was a sound idea back when we thought we might only be able to use 20 buildings per adventure
period
, but now it doesn't make a lot of sense. Sure, I had a couple of corridors and a staircase and a T-junction, but any time anyone walked through that T-junction they were going to see the same table with the same dagger and slab of meat on it. Lame.
The new Dungeon Planet is built from prefab walls, each of which is designed to cost as little complexity as possible. Note that there are only two columns on the basic Dungeon Passage Wall, and that's because the column-less end of the wall is designed to hook right into one of the other columns on a copy of the same wall.
Testing the corner theory...
Turns out my original approach was more "on the money". The new Dungeon Planet has over 75 simple buildings and I clearly can't use them all. The "wave of the future" for interiors will be to build pieces that cover a good amount of ground but also pack in a lot of detail. Recently I've noticed creating works that include floors, ceilings, and a variety of details, and I think that's the way to go.
For my Bounty Hunter Adventure I decided to spice-up some of the buildings I'd already constructed (which were designed to be enormous and lacked detail close-up) by adding prefab store fronts. This one is reversible with a different door on each side. I know I'll use both doors multiple times when decorating, and I've gotten two props out of one item.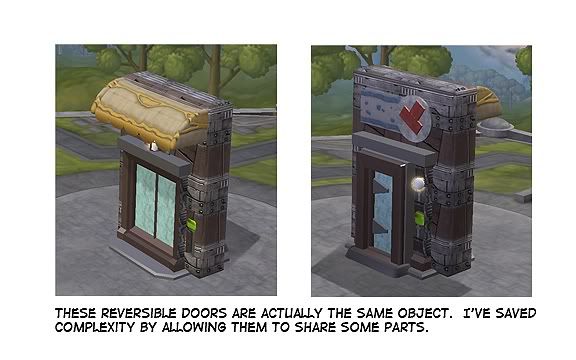 You'll have to gauge how flexible you want the objects you're building to be and find a level of detail you're comfortable with. My guess is that if you want to create large cities you'll want to make a few big complex buildings and then fill in the details with a lot of smaller, lower-complexity props. That way you can cover a lot of real estate and still have some nice stuff to look at when it's up in your face.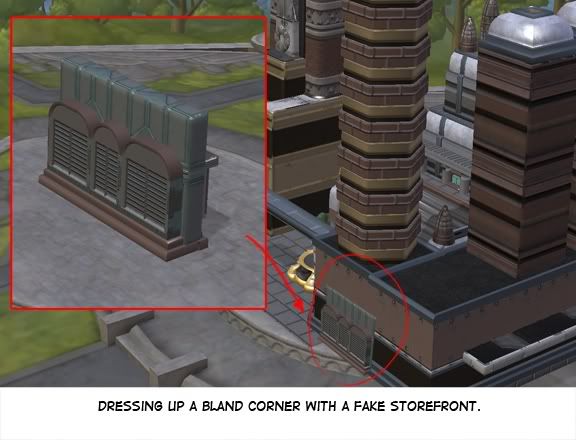 Space, Size, and Scale:
According to the Spore Camp crowd so far, the camera isn't awful (nor great), but I'll take that as a good sign. Supposedly it's best to build large interiors. And until GA comes out Until GA comes out, I still think there's some merit to keeping props separate from structures so that you can scale them independently.
I imagine my walls and passages to be about two or three times the height of the largest creature I can make in the Creature Editor. In my mind they'd stand about halfway up the wall, and my hope is that this will be enough space for the camera.
But I'm hedging my bets.
You'll also notice that nowhere have I tied a door, staircase, torch, table, or anything with a recognizable scale to the walls. That way I can scale the walls freely and add in the props at the appropriate scale later.
Rememer that you can max out the complexity meter without worry, though, so you may want to trade a bit of flexibility for complexity. Nothing wrong with that.
My doors are constructed in two parts. First there's the big hole in the wall you'll need in order to be able to pass through the wall. But since scale is still unknown, I've built a jamb around my door that's much larger than the door itself. It's also much thinner than the wall. This way, in theory, the door will fit nicely into its little nook and I'll still have some freedom to play with how big the actual door is going to be.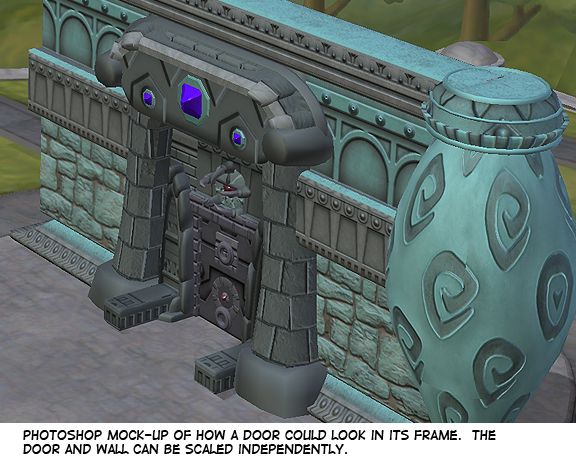 I've also made my ceilings and floors separate. This allows the same flexibility and freedom and gives me the option of not having floors and ceilings if the camera really sucks for some reason.
Also, leaving the ceiling off will allow you to place characters inside your building with greater ease. My old Sewage Plant had a little maze inside but I was never sure how I'd be able to get a monster into it. I've now split the creation into two parts to make it easier on myself later.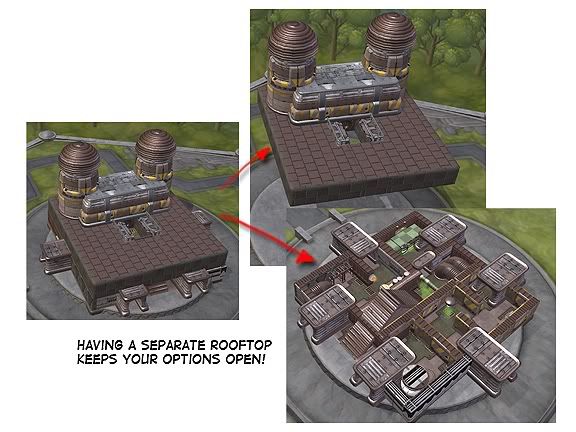 You can sometimes rip props out of structures you've already built in a similar fashion.
Another thing to consider is that we're going to be placing our buildings on round surfaces. This is a pretty crude mock-up, but this is what could potentially happen if you try to cover a planet's surface in, say, thin plating or something. The ground could clip right through. It's definitely safer to build a thicker base on any structures you intend to sink into the ground. I'm not very good at following my own advice on this one.
According to Masscolder, this is actually an issue, though the planets are pretty big. You can also flatten the ground enough that the buildings generally don't look weird.
Templates:
These days I usually keep a template of anything I'm working on that's especially complicated or part of a set. This helps you out in a few ways. First, when building sets it's handy to keep building pieces off of the original "base" creation so that all of your walls are roughly the same size and that you can easily re-use elements. Having an extra "template" also keeps you from accidentally erasing over your original creation. I've done that several times, and trust me; it really hurts if you've put a lot of work into something and you're a little too trigger happy with the mouse.
Measuring:
So you've got a set of walls you built in the House Editor but you realize you're going to need a hallway full of spinning chainsaws so you're going to need to dip into the Factory Editor. You want all of the walls to be the same size, but of course you can't load the walls you built in the House Editor into the Factory Editor. The only solution I've come up with is to load your original creation in whatever editor you made it in, then take a basic cube part. Enlarge or shrink the cube until it's the same height as your creation and make note of how many "clicks" it takes to get there. Sometimes you'll have to stack cubes. Then you can go into the other editor, place your cube, re-size it the same number of clicks you've remembered or written down, and build your Hallway-O-Chainsaws!
You can also (when working in the same editor) make a simple "measuring stick" to ensure that your walls stay even.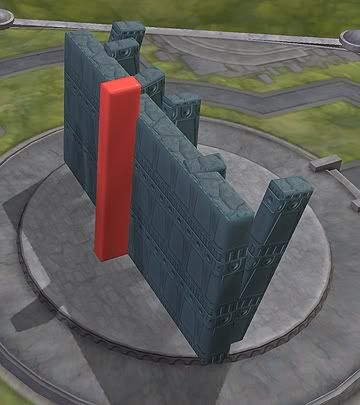 The Measuring Stick in action!
Stopping Time:
Another interesting feature that's been mentioned is the ability to turn off animations,
I've been building some custom vegetation. And not I'm told there's no way to keep a creature from moving. You can turn off the animations for vehicles and buildings, but not creatures. These plants I made are nothing but junk for the moment...
These statues will also not work.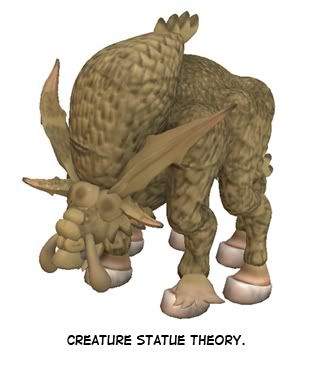 Don't do it!
Thinking Outside the Box:
As listed in the Community Interview, the official objects that you can "reskin" or disguise with another object from the Sporepedia are:
• 5 different colors of keys
• 5 different doors, each with an open and closed state
• Time bombs (possibly 3 different ones in a single adventure: 5, 10, and 15 second fuses)
• Smashable crates
• Exploding barrels
• Grenades
• Land mines
• Jump pads
• Teleporters
• Power-Ups for Health, Speed, Armor, Damage and… something else, but it's also listed as "Speed" in the interview. Maybe it's stealth? Who knows.
It's a lot of stuff, and I think there's a lot of opportunity to think outside the box.
Masscolder has also stated that you can have creatures "pick up" certain objects and even use them to fight with. I have no idea how the game determines where the "handle" is or how this system works, but it sounds pretty cool!
Since doors have two states, you could potentially use them to change the walkable geometry in a number of ways.
Andeavor's
drawbridge should actually work in-game, creating walkable geometry where there was none before. Thoughts of the Death Star bridge scene come to mind. You could disguise the key as the One Ring or a ham sandwich or something innocuous and then create a door that looked like a stone bridge, causing it to collapse into the lava (the door's "open" state), cutting off the easy route home and forcing a walk through the dangerous jungle you've created.
There are a lot of exciting things to be done with doors, I think!
A time bomb is pretty much a time bomb as far as I can figure, but I can't wait to see what wild ideas people come up with.
Also, don't forget that props can be made in any editor. That means you can make buildings out of vehicles (but not creatures)! There's gonna be some weird stuff out there!
That's all I can think of for now. If anyone else has any thoughts or tips, please share them here! The more prepared we are now, the better adventure's we'll make later!
I will try to keep this thread updated as it relates to building for GA before GA comes out. Good luck!