1. Character Name: Revar, Lord of Sector Chimer
2. Character/Empire Picture: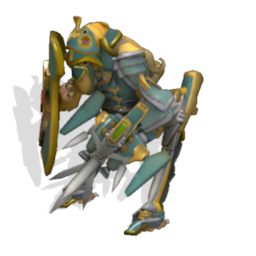 3. Empire Allegiance:Betaroid Empire
4 Side: Neutral
5. Character Description: Revar grew up years ago, on the planet Varden in the Betaroid empire. His father was a part of the Chimer Royal Guard, and in his childhood he lived a middle-class life with both of his parents. He was home schooled by his mother, and his father taught him how to fight and defend him self. When he was done with his homeschooling, Revar apprenticed to a wealthy merchant, and after a few years he learned how to buy low and sell high, and it increased his speaking skills immensely. However, when he reached adulthood, he became a Royal guard like his father before him. He spent 10 years in the service of the Chimer Lord, until one day the Lord died of old age. He was 122. After the death of the Lord, Revar was elected by the Velothi (Pope-like person) to become the next lord because of his unquestionable loyalty to the Empire and his skill set. He accepted the offer and then became what he is today. He has been The Lord for nearly 9 months.
6. Empire Description:
Philosophy: The Betaroids focus mostly on gaining land for their religion, and they tend to look down on "outsiders", which include both other races and Betaroids that don't follow the Great Temple. They attempt to convert outsiders that they like to the Temple, and they will defend their brothers and sisters of their faith as best as they can. Most of the Betaroids become warriors, pilots, or priests.
Culture: They are a race of religious warriors that all follow the Great Temple law, a religion with follows 3 gods; Thiah, Chimer, and Sotha. This religion was created by the great prophet, Velo, and his teachings spawned a new culture, a new empire. The empire is split into 3 sectors, each named after a god; Sector Thiah, Sector Chimer, and Sector Sotha, all under the Great Temple. Each of these sectors controls 30 planets, and the Temple itself controls the other 10 systems. Each sector is constantly competing for the best resources, planets, and they don't always have the best relations with each other.
Religion: Follow the Great Temple (described in culture)
History: The History of the Betaroids starts with the Chimer, a species reptile the size of a small dinosaur. These beings fought their way to the top of the food chain, steadily evolving to become faster, stronger, and smarter. Eventually they created tribes ruled without laws or government and lived strictly by codes, rituals, and traditions usually dictated by a wise woman or seer and implemented by a clan leader. Later, these tribes became more powerful, becoming small societies that constantly fought against each other, which were eventually united by the prophet Velo, which created their religion and guided them to becoming a prosperous empire. After they had colonized their entire planet, they began to have many technological breakthroughs, which eventually led to creating a spaceship. They went around, colonizing planets and setting up forts. The first race they came across was a fleet of Grox, which attacked the Betaroids and destroyed a couple of spaceships, but they were defeated quickly. They have encountered few empires since then, and are currently just expanding their empire and waiting for something to happen.
(May be expanded in the future)
7. Other: