World Architecture Challenge - The results are in!
The community voted for
Rodamn's Fallingwater
creation. This creation is now featured! Congratulate the winner by commenting on the architectural masterpiece here!
http://www.spore.com/sporepedia#qry=sast-500195428488
Get high quality renders of rodamn's winning creation
here
:
1024 x 768
|
1600 x 1200
Preview: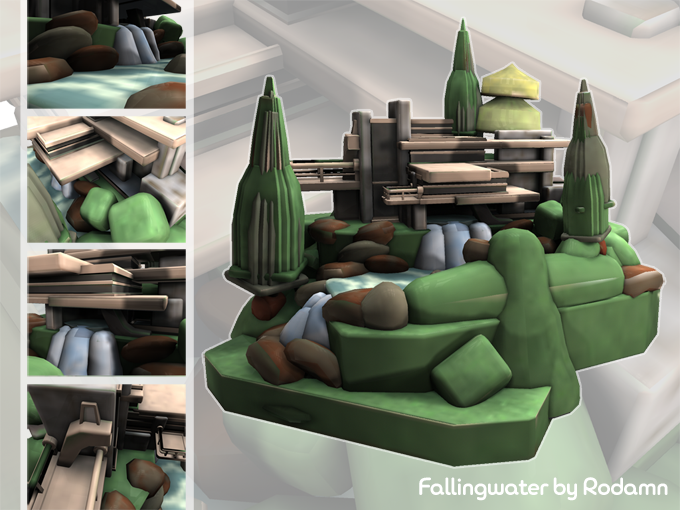 Challenge Details
We picked our favorite submissions tagged with "architecturechallenge". Now it's up to YOU to decide the winner!
In alphabetical order:
Vote before 11:59 PST Sunday night (11/30)!
Recreate famous structures from around the globe and submit them in the
World Architecture Challenge
!
What will the challenge winner get?
A chance to be featured on Spore.com!
We'll post our favorite submissions here, then YOU get to vote for which one is your top pick! The winner may be featured if it meets our criteria for featured creations.
• It must not have any parent authored by a different creator.
• It must not have any offensive creation in its lineage (any parent or child creations).
• The tags, description, name, author name, and published comments should not contain offensive material or advertise other sites.
*To clarify the last note, do not include any links in your submission's tags, name, or description
Submissions that do not meet the above criteria will not be considered for the poll
Rules:
• Your creation should look like a famous building or structure from Earth
• To submit a creation, just tag it with:
architecturechallenge
* You're welcomed to post about your creation here on the forum - but the only step required to submit your creation in this challenge is to publish it to the Sporepedia with the tag listed above.
• You can submit as many creations as you'd like
• Your structure can be made in any creator you like
• All submissions must be in by 11:59pm PST Thursday (11/27)
MaxisCactus note: If any of these creations is unoriginal, it will be disqualified from winning. As it's a holiday, I'm at home, but wanted to get the top 6 up for you to see. Unfortunately, I don't have access to the tools that let me determine creation originality from home. Thanks for understanding! 11/28/08