SPORE TV NETWORK -- INFORMATION AND KEY LINKS
Spore TV Main Broadcast thread
Bulletins & About Spore TV
Creator School
Events
Green Room
Mailroom - Leave your comments, tell us about your sporecast or creations
Newsroom
Spore TV Sporecast
Story Contest
Videos
LATEST HAPPENING!
A new section is added to the Spore TV Project. Thegreatgasman has started a project to help teach new users the tools and trades in Spore. He has started a development thread here:
http://forum.spore.com/jforum/posts/list/12612.page
Please go take a look at it and share your thoughts and ideas and be involved in making something new and valuable for the community. Help coming up with a name for the school, help choose the deans, and help with ideas that could be implemented in the project. Feedback and thoughts are appreciated :o)
The Event Masters Team (games) has set up a thread to keep you up to date in what is hot in games and events and latest developments. You find it here:
http://forum.spore.com/jforum/posts/list/12629.page
The Production Designer team has set up the first Spore TV contest. A story/scene contest that you can find here:
http://forum.spore.com/jforum/posts/list/12474.page
A SporeCast is set up with the main story and will also add the contributions. You can find it here:
http://www.spore.com/sporepedia#qry=usr-simsmac%7C2264488321%3Assc-500188780997
Don't miss out on the fun :o)
OK! Most people know what the reveal is, and what this project is by now. We rename this thing to Spore TV bulletin, because now it is about updates, progress and trying to get people to join in on this project. And for feedback and questions. For those unfamiliar with what it is, the original post will be in it's full within this post, further down.
We have thought up a way to get as many as possible involved as soon as possible in this project by creating teams to focus on various aspects of the game. These teams will be in charge of appointed section and will hopefully be of 3 or more users. One will be appointed Team Leader and be in direct contact with us and have the responsibility for communications witin the team. Hopefully we'll get teams to interact with eachother on several levels, which will add to the fun. The Team Leader will be appointed by us, and will get to choose his team like he or she sees fit. If need be, we might be able to suggest users we think will be a good asset. But that is up to the Team Leader. By being in contact with us does not mean to get things approved by us, but to update us on events and happenings that we can promote through the various channels resources we have. Team leader will also be responsible for SporeCasts and threads linked to the project. We'll of course be happy to help as much as we can with ideas and brainstorming, but the team itself will be in charge of the projects they do. Remember also, even if your not assigned to any teams, there are many ways of contributing, and there are always chances of having more added to the team or replace another if one for any reason will leave the team. Being an active contributor is always positive, and might be reason to get you onboard. Being supportive and leaving constructive feedback is also a plus.
Below we'll present what teams we want and a bit of info on what we mean about the specific departments. When people are appointed to the various positions we will update with the usernames for both Team Leaders and the rest of the team. Some team leaders will be "head hunted" for their skills in that department and/or for being an originator of that idea. It is of utmost importance that a team will be able to collaborate. There might be times when your idea will not go through with the rest of the team and be thrown aside (and maybe brought back up later), so one needs to be able to compromise and move on to do their best on what is democratically decided. There's no room for powertrips and selfish crusades. Everybody needs to be understanding that this is a team effort, yes even a community effort to make something together. It is also important that no one gets ignored in a team, and that all opinions are heard and taken into consideration. That is basically the recipe for having fun doing it and create bonds, as well as making it a success.
Feel free to let us and/or the team leaders know if you are interested in being a part of one or more of the listed projects in this thread. We also would appreciate if you would give us tips on who would be a good match for them. We, as all, or at least most of the users, do not know every talented user, and will be happy for any pointing fingers :o)
Everything is going to be a bit rusty and jumpy in the start like most projects, but as soon as we get the basics down we should be able to make a solid huge collaboration.
Here are the departments we have so far (more will probably be added). Some are containing more than one thing in the beginning, but might be split into two or more departments later on. If you see something missing that you really feel should be there, feel free to let us know, even tho it might be in the works.
Usernames for the ones assigned to the projects will be listed under each department as soon as they get appointed and we get a chance to update the post.
FORUM EXECUTIVES
A section dedicated to keep us updated on what is going on around in the forums, and being in charge of collecting links for SporeCasts, creations, videos, ideas etc. connected to the project. Making the threads so to speak not directly linked to a single project. This will be one of the most important departments and we hope to get users that frequents the forums a lot in all areas, and knows what goes on around in it. Specific examples is making a thread for all "broadcast" SporeCasts, thread with links to videos, Spore TV featured creations, winners of contests and so on. Also to make sure that any offensive creations/SporeCasts or anything violating the TOS will not appear. By executives, we don't mean that you get to wield any power. Maxis has appointed employees and SporeMasters to moderate the site and keep the community under control. They are the one with the power, and so it should remain.
Team Leader: Sakiara
Team member: chimerahound
Team member: spooradit
Team member:
EVENT MASTERS
A section dedicated to make games and events on the forum for people to join. This department will be a trifold department. The reason for that is for them to be able to feed off eachother and co-work projects interactively. It will have a Team Leader for each section. The sections are for games/cups (in the spirit of Unobtainium Cup), Role-Plays and Contests. All these will work to set up projects in the spirit of Spore TV, and might collaborate with eachoter for ideas. One example being: Make a design contest connected to a game or a role-play with maybe giving the winner a little advantage or something. Not too big of an advantage, but to help inspire people to come up with good designs. These departments will need talents from different parts of creativity. Writers, backdrop/scenery creators, creature designers, commentators to name a few.
Team Leader (games): Unobtainium
Team member (games): codyr2391
Team member (games): Warcodered
Team member (games): daunstopable1
Team member (games):
Team Leader (role-play): Dragonseye
Team member (role-play): GlorftMaker
Team member (role-play):
Contests will be handled by the various departments at first, but might be re-opened if needed later on. We encourage the users that applied for this section to talk to Unobtainium for possibilities to join the games unit or apply for that section in this thread.
MARKETING DEPARTMENT
Another very important department that will collaborate with all other departments. Mainly to get the word out when something new is happening, to try and reach as many as possible through advertisement/commercial creations. Many of these will be featured in the main Spore TV Sporecast. This way more users might end up joining the different events. By spreading the word we do not mean spamming threads or comment sections on creations, as that will by many be considered rude. We will need creative heads in this department able to make interesting creations related to what they are advertising. In other words they should be comfortable in most editors as well. Would also be great to have some graphic artists to create siggies that can be used to promote events and shows.
Team Leader:Narado
Team member: lessa1
Team member: Binny
Team member: Manifestation
Team member:
AGE GROUPS
We are looking to set up groups/clubs in age related fields. Update and closer info will come soon.
Team Leader: Narado
Team member:
Scout:
VIDEO ARTISTS
We know little of this area of the game and hope to be enlightened soon enough. We would love to have videos made of all kinds of stuff happening all around in the project. To make their own stories, but also to make video commercials, video features and so on. If there are any out there that will be willing to try this department, you are more than welcome. This is also a section that needs creative users from all over the line. Writers, backdrop creators, creature creators, and of course users who know how to use the tools in the game. Also a plus if they know how to use similar tools outside the game. It will also be a big plus if we could create tutorials for different editors, easy to be found for all users. So for creators willing to share their secrets, might be a big help in this department.
Team Leader:
Team member:
PRODUCTION DESIGNERS
This team will be a big helping hand for all kinds of "broadcasts" helping to build backdrops and creations to be used in storytelling when needed. They will be more in the background, but will get credit for their work. It is also good if these creators are comfortable in most editors and willing to make several versions of pretty much the same thing (re-occuring scenes and such) with small differences. Their work will be highly appreciated by the broadcasters, of that I'm sure. The bigger this team is, the better, as they might get overloaded with work and it can be quite tedeous.
Team Leader: Sakiara
Team member: lazywnch
Team member: Divim
Team member: simsmac
Team member: SharnaSanveech
Team member: Tygamer15
Team member: Ceece
Team member: Alanise
Team member: Alephred
Team member:
We have a main "broadcast network" but we definately need more "channels" to cover all aspects of entertainment and informercials and so on. Basic projects in this area is for now:
SCIENCE/NATURE/ZOOLOGY/HISTORY/ART/LEARNING:
Merged as one at first but might branch out to seperate channels if needs be later on. This is for learning and entertainment both in the range of schooling as well as wonderful creations. We need creative and well knowledged people to be able to educate us as well as make reasonable creations and recreations to visualize what they present.
Team Leader: Quantamania
Team member: Didzo
Team member: Daunstopable1
Team member:
SCI-FI/ACTION/MYSTERY/THRILLERS:
Also merged as one at first but might branch out to seperate channels on a later time. Good story tellers and good creators both are needed for this channel to create engaging and exciting stories for us all. Keep in mind that we can't have it too gory, because of the ESRB rating of the game (Everyone 10+)! We always need to keep that in mind as creations will appear in random games, and might not be suited for the one in the receivng end.
Team Leader: Shmitz
Team member: Bluhman
Team member: DamianDrazhar
Team member: Torraan
Team member:
FREELANCE BROADCASTERS:
For everybody who wants to make something similar, but not to any specific team mentioned above. We need a team to be in charge of collecting every SporeCast made on own initiative that wants to be part of this project. There will be no quality control, as everybody have different tastes, so the team will only make sure that the creations are not violating the TOS and make a thread to collect all these SporeCasts in. This being series or broadcasts.
Will be handled by Forum Executives!
SCHOOL PROJECT:
A department devoted to help teach the new users and lesser routined users about the tools and trades in Spore. More info will be added when the project is more developed. Help out the development by reading and adding to this thread:
http://forum.spore.com/jforum/posts/list/12612.page
The idea and project is set up by Thegreatgasman
Team Leader: Thegreatgasman
Dean:
Teacher:
The main Spore TV network has already a "News" section, some entertainment series, sports, weather, cooking show, interviews and some different things on the map, but we might branch out some of those as well later on.
More will probably come soon. Some of the people that has already come up with ideas and shown interest to join this project will be contacted over the next few days, so will perhaps others that sign up for this. And maybe even some that have been recommended. When we have Team Leaders in place the process will start to gather members to appointed teams.
You will have to excuse me for spelling errors and sometimes bad explanations in all that is written above, as English is not my native language. If you wonder about anything, feel free to ask, and I'll try to explain better. I will also correct mistakes if need be.
Thanks again for all the feedback and interest shown so far.
TnT
UPDATES 11.18.08:
Want to catch up with the latest things going on? Links to various events, tips & tricks, features, Spore TV related and not. The Forum Executives has made a main Spore TV thread with links to what is hot here:
http://forum.spore.com/jforum/posts/list/12351.page
Want to see all the Spore TV related creations and tributes? You'll find the Green Room SporeCast hosted by spooradit here:
http://www.spore.com/sporepedia#qry=st-sc%3Asrch-the%2520green%2520room%3Assc-500188183285
And if you have any Spore TV related creations made that you want added to that SporeCast, leave a message in this mailbox:
http://www.spore.com/sporepedia#qry=sast-500188870464
UPDATES 11.15.08:
The role of a Team Leader:
Being a team leader is not a power position. But has more responsibilty in the team itself. The team leader is the one who will be in direct contact with Spore TV (main) for updates on what is going on. Spore TV (main) is not in control of what projects the teams decides to follow up on, and the team won't need our approval of their projects. The communication between the team and Spore TV (main) is mainly to get us aware, so that we can work on how to promote what the team is working on. The team itself will collaborate and be in full control of their "department". Team Leaders will also be the ones who gets to decide who they want on the team, as it is important for the team leader to feel comfortable with the team he or she works with. The team leader is also responsible for communication within the team itself. It is important to remember that it is the whole team that collaborates, and the Team Leader should not be dictating what should be focused on and not. That is the teams democratic forces that should decide. It is however important to point out that the Team Leaders will be selected for their knowledge and qualifications of that department, and it might be a good thing to follow their advice.
The role of the team:
Every member of the team will collaborate on projects to follow up on and point the way for others. The team together is in charge of getting interest and people involved in what they're doing. It's not the team alone that will create everything. It's suppposed to be something for the whole community, so the main target is for the teams to come up with something that can involve the community in one way or the other. This is not as apparent in every department. Production Designers and Marketing Department i.e. will basically work on requests from the other departments, and is hard to involve the whole community on. The team will set the main guidelines, and create the main broadcasts, and point things in the right direction of course.
The Junior Club:
The club is put on hold until we can straighten out age limits and laws and regulations. We will update as soon as we know how and if we can do this.
WANT TO BE SPOTLIGHTED IN SPORE TV?
One of our main goals is to shed some light on and spotlight creators and creations through this project. So feel free to go to this thread:
http://forum.spore.com/jforum/posts/list/12068.page
to nominate some that you feel should get more attention. You can nominate yourself, but if you want to do that, you also have to nominate someone else :o)
Original post:
So the time has come to reveal what the heck is going on! Why we have bombarded you with mysterious creations and offered no explanation, and even more mysterious threads in the forum with no apparent meaning. It is time to finally reveal what "IT" is.
But first we want to thank everybody for their patience, support and for playing along with this whole thing. The countless comments, questions, guesses and show of expectations has really added to the experience for us in this process, so now we only hope we can prove it worthy the wait, and that we can live up to the expectations you have.
Many have guessed it to be a single collaborate creation, but no, we hope to take this much further than that. Our goal is to make this an ongoing thing, and hopefully many of you will help us make it even bigger and better. Reading through all the comments on these "advertisement" creations, we have found many thinking in the right direction, and just as many in the wrong direction. We can recall only one being almost completely right (Quickfox), and one being dangerously close, probably without even realizing it (shattari).
Without further ado, Ladies and Gentlemen, young and old, we present to you:
SPORE TV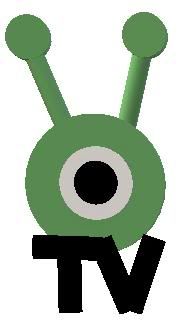 A TV network broadcasting to the whole Spore Galaxy, with fun and entertaining stories and creations. We know your Spore addiction is stealing time from sitting in front of the TV-set, so now we want to bring that experience to your game. We start off with a few programs, and hope to expand to many more over time.
It is first and foremost built around a news program called Spore O'clock News with regular updates of what happens around in the Spore Galaxy (fictional and non-fictional). With a wide cast of charismatic anchors and field reporters we will bring you the latest and greatest news stories in the world of crime, events, sports, encounters, abductions, traffic reports and even the weather. But it goes further than the news! We'll have interviews and reviews of creators and creations, flamboyant characters and even an exclusive interview with the Mastermind behind it all (we won't reveal who that is yet, or when it's going to "air"!) ;o)! We'll have contests and polls and put some focus on other contest and polls in both Sporepedia and at the Forum. We'll set up SporeCasts for contests, events, our favorite creations, our favorite shows, tutorials, creatortips and one for freelance reporters, suggestions and contributions.
But there will be more!
Follow the great German adventurer Helmuth Vogelgang, The Cockatiel Hunter, in his quest to find a rare blue cockatiel. Witness all the dangers and hurdles he's facing along the way to achieve his goal!
Or maybe you want to keep up with the latest in gourmet cooking? Decorated chef Pepe Roni and his trusty sidekick Brock Lee will bring you exotic recipes and handy cooking tips for all occasions.
And more will come!
If you like to smile and laugh, you don't want to miss subscribing to the SPORE TV sporecast where everything will be collected, hosted by Mootacoo. You can find it here:
http://www.spore.com/sporepedia#qry=ssc-500184070018
We'll air in only 2 days, so get ready to be entertained :oD!
Brought to you by Gryphon57, Mootacoo, Slartibartfast38 and TnT-Productions!
http://www.spore.com/view/profile/Gryphon57
http://www.spore.com/view/profile/Mootacoo
http://www.spore.com/view/profile/Slartibartfast38
http://www.spore.com/view/profile/TnT-Productions